is prepared with fried nuggets mixed with
soya
sauce ,tomato sauce,chilli sauce,corn flour solution and with vegetables,due to its high nutritional value it is very healthy as well as tasty recipe,your kids will enjoy this dish in lunch box or as short school break snack.you can make it in simple quick way too.
For Soya chunk balls frying
1½ cups good quality soya chunks /soya meal/ meal maker ( Any brand )
¼ tsp salt or to taste
2 tsp mild chili powder
2 tsp cornflour
2 tsp ginger and garlic paste crushed
1 tbsp Corn Flour
1 tbsp maida
2-3 Tbsp edible oil + for pan frying( around ¼ Tbsp)
For Sauce
2 Tbsp light so ya sauce
2 Tbsp Green Chili Sauce
- more if you like
2 Tbsp Tomato Ketchup
- more if you like
2 tsp
vinegar
¼ tsp Masala powder -
optional – i like to use a mild masala powder
4 medium spring onions, chopped into small pieces
2 medium size onions chopped
2 mild green chilies, chopped
1 small green pepper/ capsicum, chopped into small squares
Coriander leaves for garnish
salt – around 1 tsp
For Wet Manchurian
2 tsp cornflour mixed in ½ cup water.

Method:
Rinse the soya chunks in cool water till the water runs clear.
Soak in hot water with for 1 hour.
Drain and squeeze out excess water gently.
Marinate the soya chunks with chili powder, turmeric, 1/tsp of ajinamoto(chian salt),1 tablespoon of corn flour1 2tsp of the ginger and garlic paste and ½ tsp salt for 15 minutes.(optional-permitted red food colour)
Now you can choose to either deep fry till golden and drain OR pan fry in a little oil till evenly
golden.
Drain and set aside.
(Pan frying takes up less oil but requires constant stirring till the soya chunks are evenly crisped and golden- this will take 5-10 minutes in a large frying pan)
For seasoning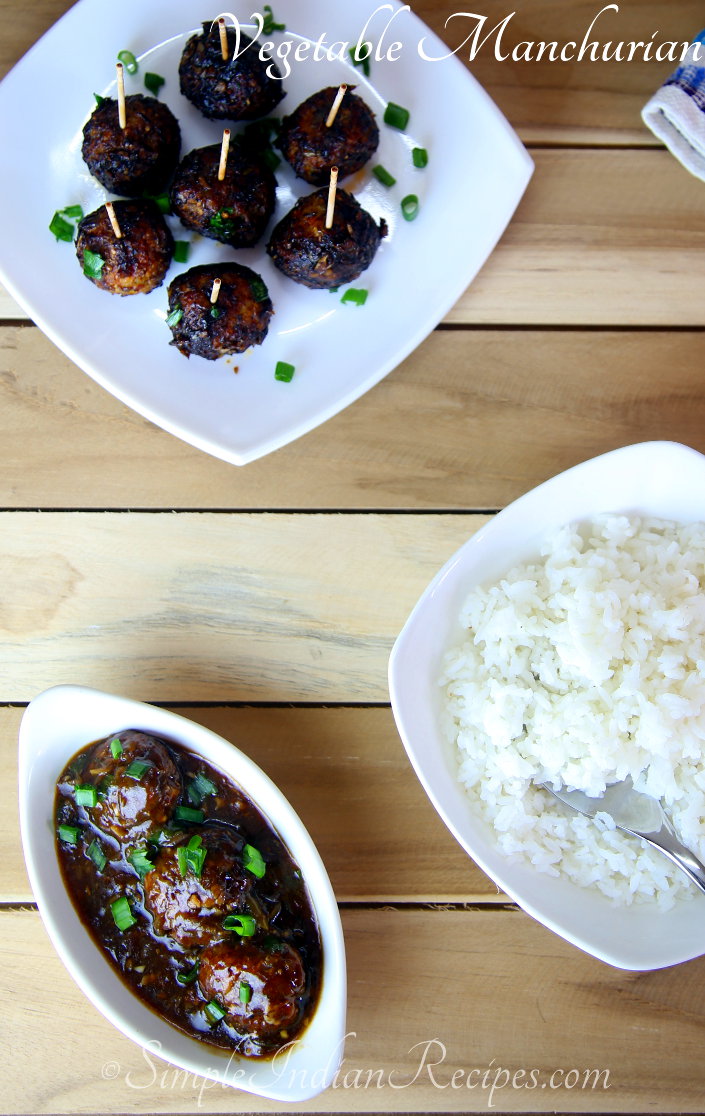 Heat 2 Tbsp of oil in a non stick wok or pan. Add the ginger, garlic and onion. Saute briefly.
Add green chili and capsicum. Saute till softened.
Add the sauces and chat masala powder (if using). Stir to combine. Add salt to taste.
Add the fried soya chunks and toss with all the ingredients. Once the soya chunks have absorbed the sauces, add the cornflour solution. Heat till a thickened gravy is formed
.
Also add water if you need a little more gravy. You can add a little bit more

chili

or Tomato sauce if needed.
Garnish with Coriander leaves.