GRAVY FOR PULAO/BIRYANI -RESTURANT STYLE
Main Ingradients
Ingredients- 1
2 nos

Dry red chili
1 tbsp

Corainder seeds
1/2 tsp

Cumin seeds
1 tsp

Black peppercorns
1/2 tsp

Fennel seeds
1/2 " inch

Cinnamon stick
2 nos

Cloves
1 no

Green cardamom
1 petal

Star anise
Ingredients-2
15 nos

Small onion
2 nos

Green Chili
5 cloves

Garlic
1 inch

Ginger
Ingredients-3
2 nos

Bay leaves
1/2 tsp

kasuri methi (Dry fenugreek leaves)
1 tsp

Kashmiri Chili powder
1 tsp

Coriander powder
1/4 tsp

Turmeric powder
5 nos

Curry leaves
2 tbsp

Coriander leaves (chopped)
3 tbsp

Oil
2 nos

Tomato
1 tsp

Fresh ground coconut paste
1 1/2 tsp

salt
1/2 cup

Water (only if necessary)
METHOD:
1)First step is to make a spice powder. Combine all ingredients in table-1 and dry grind to fine powder. (Dry roasting is not required)
2)Second step is to finely mince all the wet ingredients. This is really the keym make sure you mince the onion, green chili ginger and garlic.,coriander leaves If that's a hard task then put them in the mixie along with ground spice powder and just use the pulse setting twice. (Do not add water, just run the mixie to mince them)
3)Heat oil in a pan and add bay leaves, dry fenugreek and curry leaves. Let them sizzle, then add the ground paste and keep frying over medium flame for about 1o minutes. You have fry till the onion mixture gets rid of the raw smell. Now add the chopped tomatoes, red chili powder, coriander, turmeric powder and salt. Cook for another 10 minutes. The gravy will look slightly watery at this stage.
4)Keep sauteing until the oil separates. Once the gravy looks dark brown , you are ready to add any kind of meat or veggie.
(please see the Note)
5)Last part is to add the teaspoon of ground coconut paste which gives good consistency. Simmer for few minutes and garnish with finely chopped coriander leaves.(optional)
Grind the tender coconut to paste
Gravy consistency can be either adjusted with water or coconut paste.
1. For thick dark brown gravy – No coconut paste. Just add 1/4 cup water and simmer.
2. For light brown gravy – 1 tsp of coconut paste + 1/2 cup water.
3. For thin yellowish gravy – 4 tbsp coconut paste + 1 cup of water.
Serve with biryani, boiled eggs and raita. Bookmark this for your Special Sunday Meals.
Note : Coconut paste is optional
Veggie options: Mushroom / Potato or Long Green Peppers suits well for this gravy.
Non- Veg options: Bony parts of Chicken or Mutton, Prawn/Shrimp, Boiled Eggs.
After adding any one of the options above make sure you include little water to cook them thoroughly.
********************************************************************************
RESTURANT STYLE SHORBA OR SHERVA OR TAMATAR KA GRAVY
Main Ingredients
(240 ml cup used)
2 tbsp. Oil
1 large onion thin sliced
2 medium sized tomatoes
2 green chilies slit
¾ tsp. ginger garlic paste
Salt as needed
⅛ tsp. turmeric
3 tbsp. tightly packed Fresh coconut (can increase or decrease by one spoon to suit your taste, too
much will make it a coconut gravy)
Fistful of pudina / mint chopped finely
1 tsp. red chili powder
1 tsp. biryani masala powder
1½ tbsp. Fresh thick yogurt / curd (do not use sour yogurt)
Dry Spices
1 small bay leaf
1 single strand of mace
3 green cardamoms
2 petals of star anise
3 cloves
1 small cinnamon stick
½ tsp. shahi jeera
METHOD
Add half the oil to a hot pan, fry onions and chilies till the onions turn golden.
Add grated ginger garlic or paste and fry till the raw smell goes off.
Add chopped tomatoes, sprinkle salt, fry till the mixture turns mushy.
Add coconut and fry for 3 to 5 mins or until you get a good aroma. Cool this and blend with vegetable stock or water to a smooth puree.
Heat the pan again, add remaining oil. Fry the dry spices until they sizzle. Add mint and fry for a
minute.
Add the blended onion tomato mix to the pan, add red chili powder, turmeric, masala powder, and more
salt if needed. Stir until everything blends well. Add more water to bring it to the desired
consistency.
Bring this to a boil, add yogurt and stir well. Simmer for 8 to 10 minutes or until the gravy reaches
the consistency.
Serve with biryani, pulao.
Note : Non Vegetarians can add chicken (boiled and cooked with bones in shorba with chicken stocks)
***************************************************************
Chicken Shorba
Preperation Time 20 Minutes
Main Ingradients
500 gms of chicken bones
1 tblspn oil
100 gms of boneless chicken
1 tspn of cumin seeds
1 ltr water
1 tblspn of refined flour/all purpose flour (maida)
1 tblspn of chopped garlic
White pepper powder
1 tspn of butter
Salt to taste
Method
Clean and wash chicken bones. Clean, wash and cut chicken into very small pieces (1/2 cm cubes).
Add chicken bones in a pot and one litre of water, chopped garlic and cook till water is reduced to 600 ml.Strain and keep the stock aside.
Stir fry chicken pieces in butter till tender and keep the stock aside.
Heat oil, add cumin seeds and refined flour, cook for a minute, stirring continuously.
Now add the reduced chicken stock, chicken pieces, white pepper powder and salt.
Cook for some time and serve hot.
You may add half a cup of fresh cream just before serving to make it a little rich.
***************************************************************
KHADAI PANNER - QUICK VERSION


















MAIN INGRADIENTS
Take 3 ripe tomatoes,
2 large red onions,
12 garlic cloves.
Boil or pressure cook till
mushy.
Puree in a food processor. Keep aside.




Method
Heat 1 tbsp Any Edibe oil.
Add a quarter tsp of zeera with a generous amount of kasuri methi.
Now pour the puree.
Add 1 tsp red chillie powder, 1/2 tsp haldi powder and salt to taste.
Cook well until oil separates. Add 250 gms of paneer
Cook on medium flame for 5 minutes.
Add some water to adjust the consistency of the gravy.
Add diced capsicum (1 large) and onions (1 medium).
Give a good stir and add 1 tbsp of tomato sauce
Cook for a minute or two. Turn the heat off else the capsicum and onions will overcook and loose their crispness. Add 1 tsp of butter (optional) and fold it in.
Sprinkle some crushed kasuri methi.
Serve with lachcha paratha. Kadhai paneer can't get simpler than this.
Again no cashews or poppy seeds but awesome taste.
****************************************************************
PUNJABI SIDE DISH SPRING ONION PANNER
Main Ingradients :
400 GMs paneer cubed and soaked in hot water for 10 MTS
2 bunches spring onions chopped up(keep stalks separate)
10 cloves garlic crushed
1" ginger grated
2 medium tomato's chopped
Butter
1 tbsp cumin powder
6 green chillies chopped
1 tsp turmeric powder
2 tbsp cream
Method:
Warm Butter,sautee tomato,chopped chillies,
add chopped spring onions,salt,cumin powder,ginger,garlic,and cook on low for abt 5 mts.
Add the chopped stalks,and,cook on high for 3 MTS.Add the paneer,stir well,check seasoning,
add cream and take off heat.
**************************************************************
Stuffed Ladyfinger / Bharwan Bhindi recipe
Main Ingredients:
Ladyfingers (bhindi) 500 grams
Salt to taste
Oil 2 tablespoons
Onions sliced thick1 1/2 cup
Special ingredient - Bhindi Masala
Bhindi Masala Mixture ingredients
7-1/2 tbsp besan/gram flour
2 tsp chili powder
1-1/2 tsp garam masala
4 cloves of garlic- mashed
2 tsp dhana-jeeru/ cumin-coriander powder
6 tbsp lemon juice
1/3 tsp turmeric
salt to taste
2 tsp til/sesame seeds
Method:
Step 1
Clean, wash and wipe lady fingers absolutely dry. Remove half a centimeter from both ends. Slit and keep aside.
step 2
Mix all masala ingrediants to form Mixture
Step 3
Stuff 3/4 mixture in the lady fingers/okra with this Bhindi masala.keep aside the rest of the mixture
Step 4
Heat oil in a kadai. Add sliced onions and cook for ½ a minute. Add stuffed lady fingers/okra.top the bhindi/ladies finger with remaining Masala mixture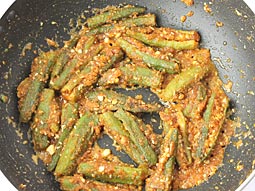 Step 5
Cook covered on low heat. Stir occasionally. Add some more Bhindi masala when lady finger/okra is almost cooked.
Step 6
Cook covered on low heat till lady fingers/okra are fully cooked and tender.
Step 7
Serve Chapati/Steamed Rice
*************************************************************
PARWAL KI SABJI OR POTALS DONDI/DONDA KAYA MASALA
(POINTED GOURD)
Main Ingradients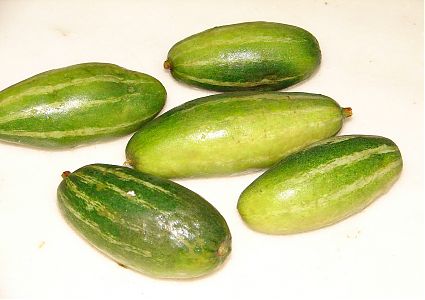 500 gms parwal scrapped and cut into halves
3 tbspn grated coconut
1 big tomato grated
1/4 tspn ginger and garlic paste
2-3 Bay leaves ( tej patta)
1/2 tspn Whole Cumin seeds (jeera)
1 tsp Coriander Powder
1/2 tsp cumin powder
1 tspn sugar
Salt to taste
Chilli Powder,Turmeric Powder
1/4 tspn Garam masala
1/2 tspn Ghee
Mustard oil or any edible oil
Method
Heat any edible Oil in a kadai and
Add tej patta/Bay leaf to be and cumin seeds (jeera).
When they infuse the flavor and Cumin started spluttering
Add the parwal and saute on high heat for a 5 minutess.
Once they start to colour
Add the ginger paste and tomato.
Saute for a minute or two. Add the salt, sugar,Turmeric powder( haldi) and Red chilli powder,Coriander powder,Cumin Powder. add little water
Cover and cook on low flame till the parwal is cooked.
Now add the desicated coconut and little water.
Cover and cook again for three to four minutes.
Once the parwal is totally cooked and the masala starts releasing oil
then add the garam masala and Close the lid,Cook for 15 minutes on slow flame
Now turn off the heat and serve
****************************************************************
Stuffed Lauki (Bottle Gourd)
Main Ingredients
1 medium bottle gourd (lauki/doodhi ) (Clean the bottle gourd remove the skin.Cut the bottle gourd lengthwise to get two halves and scoop out the center of both the halves. Cut each half into a 4" long pieces. You will get approx. 4 pieces in all.
1/2 cup crumbled paneer (cottage cheese) ( Freshly prepared at home by adding half a lemon juice into ½ liter boiled milk then strain the curdled milk and collect the paneer after the whey is sepated from the paneer )
1 cup scoop out portion of lauki (bottle gourd) ( Use the seeds too if they are soft and chewable)
1/4 cup finely chopped onions
5-6 cloves of garlic
2 tbsp finely chopped coriander
1/2 tsp dried mango powder (amchur)
1/2 tsp Black Pepper powder
1/2 tsp chilli powder
salt to taste
For The Tomato Paneer Gravy and Stuffing
1 big Tomato chopped finely
Paneer - 1/2 cup ( grated) ( You can use freshly prepared home made paneer too)
1 tbsp oil
1 tsp chopped ginger
1 tsp chopped garlic
1 tsp coriander-cumin seeds powder
1 tsp chilli powder
1 tsp garam masala
1 tsp cumin
1 tsp sugar
salt to taste
2 tbsp oil
Prepare a paste of scoop out portion of lauki, onion, garlic, ginger and tomato.
For Garnishing
2 tbsp finely chopped fresh coriander leaves
2 tbsp crumbled paneer
Method
For the stuffed lauki
Take a deep bottomed pan.
Add water and salt .Boil the water.
Then add the lauki( bottle gourd) pieces.
Cover with a lid and cook on a medium flame for 4 to 5 minutes or till the bottle gourd pieces are cooked.
Take care not to over cook the bottlegourd.
Drain well and keep aside to cool slightly.
For the Tomato Paneer Gravy and stuffing
Heat a kadhai. Add oil.
Then add cumin and wait till the cumin stops crackling.
Then add the prepared masala of scooped out lauki.
Add coriander-cumin seeds powder, chilli powder, dried mango powder ,black Pepper powder , garam masala, sugar and salt, mix well and cook on a medium flame for 2 to 3 minutes.
Add a little water.
Saute till masala is done . Then add the paneer .
Mix well and then remove from heat.
At the time of serving,
place the boiled bottle gourd pieces on a serving plate and stuff the tomato paneer masala into them and pour the remaining tomato paneer masala in the serving dish.
Serve immediately garnished with fresh coriander leaves and crumbled paneer.
Enjoy with chapati or rice
**************************************************************