This is a list of common Indian pickles, which have a wide range of flavors and textures. Indian pickles are generally pickled with oil, vinegar, lemon juice or water.Indian pickles are often made into fresh relish and chutney, which provides additional flavors to food. Many types of foods in Indian cuisine are pickled.Mangoes, gooseberries and lemons are examples of foods that are commonly pickled in Indian cuisine. Sometimes Indian families have their own unique pickle and chutney recipes that are handed-down through the generations.
LIME PICKLE
RECIPE
MAIN INGREDIENTS


15 Lemon (without any black spots -bright yellow ones)

1/2 t spoon turmeric

1 cup red chill powder

1/2 cup salt

1 table spoon of crushed garlic(optional,if you don't use garlic,you can avoid this)

3/4 th cup of any edible oil

little fenu greek powder.(dry roasted methi powder) Menthi podi
For Seasoning/Tadka/Popu/Thalimpu


1/4 th t spoon of mustard seeds

1/4 th t spoon of cumin seeds (zeera)

2-3 dry chilies

Pinch of Hing (asofatida)

Curry leaves ; 10-12 (optional)
Preparation :

1) cut the another 5 in to two halves and extract juice of 5 in a bowl,keep aside
Method

1)Wash the lemon thoroughly and wipe with dry cloth (any moisture on lemon will spoil the pickle)

2)Divide the lemons into two batches 10 and 5

3)Cut the 10 lemons into 8 quarters ,and remove seeds as much as you
can,keep aside

4)Now add turmeric,red chilli powder,fenu greek powder(methi powder),Salt, to the lemon quarters,
5)Now Add the lemon juice of 5 lemons to the lemon pieces bowl

6)Now place a wok /kadai on stove in low flame

7)Add edible oil to the kadai,Add dry chilies,Add mustard seeds,add cumin seeds and urad wash let the mustard seed flutter,you will hear crackling sound.Add curry leaves and pinch of hing(asofotida)

8)Now pour this seasoning on lemon pieces

9)Now store in sterilized dry aand air tight container for 2-3 days

and use it

Best served with chapatis,Plain Hot rice and paranthas
Note :

1)Those who wants Sweet lime pickle may see my next post for the same

2.In traditional way,first add turmeric and salt to the pickle and store it for 15 days ,then add red chilli powder,salt,other spices,then add seasoning before using the pickle ,But i have given this as quick recipe and with less shelf life(max 15-20 days in refrigerator.
****************************************************************
Sweet Lime Pickle
Ingredients



11

(approx. 500 grams)

lemons



1 tsp

turmeric powder (haldi)



2 cups

(500 grams)

sugar




1 1/2 cups

(250 grams)

grated jaggery (gur)


Method
Wash the lemons and wipe them dry using a dry cloth.
Squeeze out the juice of 5 to 6 lemons to get approx. ½ cup of lemon juice.
Cut the remaining lemons and lemon skins into quarters. Keep aside.
Place the lemon quarters and squeezed out lemon skins in a sterilised glass jar.
Mix together the lemon juice, salt and turmeric powder and pour this mixture over the lemons.
Press the lemons in the jar tightly so that the lemon juice covers the lemon pieces.
Cover the jar with a lid and place it under the sun for 10 days or until the lemons are soft and give way under the pressure of your thumb. Toss the contents of the jar occasionally.
Add the sugar and jaggery and toss well.
Leave aside for 8 to 10 days or until the sugar has dissolved, stirring the contents of the jar occasionally.
Add the chilli powder and mix well.
This pickle can be stored for upto 1 year in a cool dry place.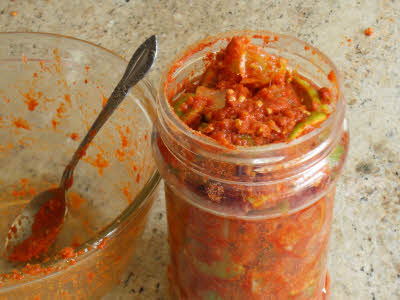 \
****************************************************************
GREEN CHILLI PICKLE-INSTANT PICKLE FOR SHORT TIME USAGE

1 cup

thinly sliced big

chillies




1 tbsp

cumin seeds (jeera)




1/2 tsp

whole

peppercorns (kalimirch) or powder




1/4 tsp

dried ginger (soonth) powder




1/2 tsp

carom seeds (ajwain)




1 1/2 tbsp

grated jaggery (gur)
1/2 tsp turmeric powder/haldi
1 to 2 t spoons sabut dhaniya(coriander seeds)
1/2 T spoon Methi seeds(Fenu greek seeds)


1 tbsp

lemon juice




1 tsp

oil




1/8 tsp

salt


Heat the oil in a non-stick pan, add the green chillies and sauté for 2 to 3 minutes. Remove from the flame and keep aside.
Dry roast the cumin seeds, peppercorns and carom seeds and all other
ingredients
together in a non-stick
pan till it leaves a nice aroma. Remove from the flame and keep aside to cool.
Powder all the roasted ingredients finely in a blender.
Add the dry ginger powder, jaggery, lemon juice and salt and mix well.
Mix the prepared masala with the sautéed green chillies and keep aside to marinate for
at least
3 to 4 hours.
Cover and refrigerate till required. This pickle will last for 2 to 3 days in the refrigerator.
*********************************************************************************
DOSA AVAKAYA - YELLOW CUCUMBER PICKLE
(South Indian Andhra Pickle)
DOSA AVAKAYA :Traditional pickle of Coastal Andhra is most sought dish in any catering events.especially in Brahmin households this is routine and every day recipe,Very simple to make,actually no need for Tadka or Popu for this dish.Just mix the ingredients keep the dish for pickling for 1-2 days and use it
Ingredients:
1 yellow cucumber (Dosakaya) 500 gms approx.
3 tea spoons red chilli powder (preferably Priya or Three Mangoes Brand or Ashirwad)
3 tea spoons salt
3 tea spoons mustard powder
2 to 3 table spoons of oil (preferably Ground nut or sesame Oil or any other oil
Method
Wash cucumber and wipe with a clean kitchen towel. Dry for some time. There should not be any moister on the cucumber.
Do not Peel the skin of Cucumber it is required for pickle, Cut the cucumber. (First taste it, sometimes it may be bitter. Do not use bitter ones)
Remove the seeds of the cucumber . Chop the cucumber to medium size cube pieces.
Add all 3 parts of Chili powder ,Salt and Mustard Powder to Cucumber Pieces
Mix well with edible oil,add Hing
Keep in Dry place for two days with completely sealed
Use Yummy Dosa Avakaya Pickle from 3 day on wards
Note :
Tadka or Popu or Thalimpu is optional those who wants they can (for tadka all you need to do is heat the oil add mustard seeds,Dry chilies,Hing (Asofotida) and curry leaves and add the same to Pickle.
Shelf Life for this pickle is 1 month under refrigeration
********************************************************
Green Chilli chutney- North indian style
Main Ingredients