This page is totally dedicated to the beginners,who are just trying to cook and earn basics of cooking
This page contains topics on
1)Basic Rice Cooking,
2)Chapathi making,
3)Dal making,
4)Sambar making,
5)Rasam making,
6)Kadi making
7)chutney making ,
8)Gravy Curry making,
9)Fry making,
10) Pickle making
11) curd making
12) Tea making
13)Coffe Making
14)Salad making
15) Pasta making
****************************************************************
RICE MAKING BASICS
1)Basmathi Rice- Aromatic rice - This is bascically used in flavoured rice such as biryanis,zeera rice,pulavs etc
2)Non Basmathi - Long Grain Indian Rice - This Rice includes Sona masuri Rice,Samba Rice etc ,This rice is used in day to day cooking especially in South India
3)Ponni Rice - Short Grain Rice ; This rice is also called as pponni rice mostly used in Tamilnadu and Kerala as staple food
4)In Bihar,Orissa,Bengal,Asom and North East they prefer Mandakki (scented rice) and IR 64,IR 1000 variety Long Grain Rice
******************************************************
1)Basic Rice cooking without using Pressure Cooker


This is the basic recipe for beginers who doent have a pressure cooker,but still wants to cook rice


Main Ingradients
Water
Few Drops of Oil
Little Salt (optional)
Main Tools/Utensils
1)Big Vessel
2)Colander to drain
3)Spatula
4)gas Stove or induction stove
Ratio to Rice and Water is generally for 1 cup rice : 3 cups water
Method for making rice (Rice Cooking Basics)
Wash the rice properly and keep aside.soak the rice for 15 minutes
Take a pan, add water to it. Let it boil.
When water starts to boil, add rice and salt. Cook for 15 minute and then reduce the heat let it cook till the rice in completely soft but not mushy.
you can notice rice carnels dancing from bottom to up in container
(First check with some rice carnels,if you see rice kernel starts dancing it is time to add rice to water,do not add before this ) :-) :-)
Keep stiring gently other wise rice kernel breaks down and check the grain in between
If the grain is turned soft and long rice,Switch off the heat and drain the starch water by pouring the rice and water over colander.
Keep it closed for 5 minutes,Turn up side down after 5 minutes and keep the container close with lid
Transfer the rice in a bowl.
Serve hot.
Notes
Some Common Mistakes in Rice Cooking
1.if you are cooking with brown rice ,treating Brown Rice Like White Rice is different
"When cooking brown rice, use 1/4-1/2 cup more water per cup of rice than you would for white rice."
"Let the rice sit covered for 10 minutes after it's done cooking. Then fluff it with a fork."
3. Stirring It vigourously is common mistake
"NEVER stir vigourously your rice! Stirring activates starch and will make your rice gloppy. Some times breaks the rice kernel "
"Rice is like pasta–you have to salt the water, or else you'll have bland rice. I put a 1/2 tsp. to a tsp for each cup of rice."
5. Cooking It at a High Temperature
"Start with a boil, then bring it down to a low heat. If you cook rice too quickly, the water will evaporate and the rice will be undercooked. Low heat keeps kernels intact
********************************************************************************
RICE COOKING USING PRESURE COOKER
Basic measurements of water and rice in pressure cooker based cooking
1)Rice - Non Basmathi Long Grain Indian Rice
1)Dish to Hold Rice and Water
2)Pressure cooker (Available sizes starts from 3 litres to Max 12 litres and above Ideally for single or two persons 3 litres is perfectly suited )
Once in awhile you have to change rubber gasket which is in side the lid ,clean the emergency valves on lid.
1)Rinse and cLean the rice under running water or in wide open vessel,make 2 to 3 washs of rice,the water should become transparent and rice should be visible clearly
2)Soak the rice for 15Minutes -if the rice is old then soak for 20 minutes
3)Add 2 cups of water for 3 litres cooker and switch on the flame
4)Take a vessel that fits in side the prssure cooker easily and Add soaked Rice plus 1 and 1/2 half cup water
5)put the vessel inside the pressure cooker
6)Close the Lid of Pressure cooker
7)Let steam generate (visible through Vent tube nut on top of the lid)
Now place the Lid on Steam venting tube
Turn the Flame to High Mode
After 2 whistles turn it to sim and after 3-4 whistle switch off the flame
Let it rest for 15 Minutes (in this process rice cooks fully)
Finally remove the lid of the pressure cooker ,release the remaining steam (very little will be there)
Now Release the lock open the Pressure cooker Lid safely and release steam,if any and then open the lid fully
Your Rice is ready to Serve ,enjoy with any side dish,stews,pickles etc
Notes :
1)Water to be added in side the pressurecooker depends on your cooking time,For eample,if you are cooking vegetables and Dal (lentils) along with Rice you will have to add more water say 3 cups for longer cooking Time
2)Watchout for safety during Pressurecooker lid opening after cooking is finished
3)If you are cooking in Electrical cooking no need to add Water,Switch off the cooker when indicator turns to green i.e from cooking to warming
****************************************************************
CHAPATI/ PHULKA /ROTI/INDIAN FLAT BREAD RECIPE
Main Ingredients:
2 cups Wheat Flour (Gehun Ka Atta)
Water as per requirement
Edible oil
Salt to taste
Tools/inputs for Chapathi making
1) Bowl for making chapathi dough
2)Roller for Making Chapathies and 3)Chapathi making base
4)Non Stick Skillet/Tawa for Chapathi roasting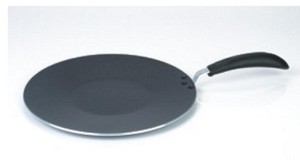 Method to make chapati:
Knead soft dough with above ingredients.
Leave it for atleast 30 minutes.(cover it with wet cloth or plastic polythene sheet)
Break off to a table tennis - ball sized (even smaller) bit of dough.
Roll with help of dry flour to a thin round about 6 inches circular shape
dust the chapathi making base with wheat flour
Step 1
Keep the Dough Ball on Chapathi making base and press it to make it flat round
Step 2
Start rolling
Step 3
Roll evenly from one end to another to make circular shaped chapathi
Roll as thin as possible.
Heat tawa and place phulka on it.
When dry on one side, turn it.
When brown spots appear on second side, turn again.
Use a kitchen towel and lightly press the phulka, rotating at same time, it will puff.
Make as soft or crisp as desired.
Serve hot.
****************************************************************************
2) BASIC DAL RECIPE -NORTH INDIAN STYLE
North Indian Style
Main Ingradients
1/2 cup Tuvar Dal/Arhar Dal/ pigeon peas (Lentils) skinned and splitted
Ingradients for Seasoning /Tadka
1 Tomato (Tamatar)
1/2 tsp Jeera
1/4 tsp Turmeric (Haldi) Powder
2 Green chilli
3 tsp Oil
1 level tsp Salt (Namak)
3 Garlic (Lasun) Cloves
Method
Add water to the dal in the ratio of 1 Cup dal = 2 Cups water
:
Boil the dal with salt, turmeric powder and slit green chillies.add few drops of edible oil
After 3-5 whistle ,switch of the pressure cooker and let it cool for 10 -15 minutes and then open the Lid
Mash the Dal for smooth dal
In another pan, heat oil, add the Mustard seeds, the jeera, tomatoes and garlic cloves,Red chilli and curry leaves saute on a high flame till the tomatoes are soft and pulpy.
Add the boiled dal into this with little water, boil well for 15 minutes to incorporate the masala into
the dal,
Garnish with coriander.
Notes :
1)You can substitute any other dal such as Masoor Dal,Moong Dal,Chana dal ,Urad dal etc for Tur Dal and cook in the same way
2)You Can Add Chopped onions in Seasoning (Tadka) if you Like
3)You can add Spinach(palak) ,Methi(Fenugreek) Ambada(sorrel leaves) or any other veggies such as Lauki(bottle gouard) Turai ,Amarnath (Ridged gouard) and Potato interchangebly
4)Best recipe for Chapati/Kulcha or for steamed white Rice
************************************************************************
BASIC DAL RECIPE - ANDHRA /SOUTH INDIAN STYLE
This recipe is called as Pappu in Andhra/Telangana states of south India and Paruppu in Tamilnadu and Kerala ,Bele in Karnataka
Almost Method is same except timing of seasoning /Tadka
Main Ingradients
1/2 cup Tuvar Dal/Arhar Dal/ pigeon peas (Lentils) skinned and splitted
Ingradients for Seasoning /Tadka
1/2 tsp Jeera
1/2 tsp mustard seeds
1/2 tsp urad wash (skinned and splitted)
1/2 tsp Chana Dal
Pinch of Hing (asofotida)
1/4 tsp Turmeric (Haldi) Powder
1 /2 table spoon of curry leaves
1 table spoon of tamarind juice
2 Green chilli
3 tsp any edible Oil
1 level tsp Salt (Namak)
3 Garlic (Lasun) Cloves
1 chopped Tomato (Tamatar) (optional)
Red chilli powder(optional
250 grams any vegetable made into cubes or big pieces such as cucumber etc
or Raw Mango pieces
Or Sorrel Leaves/Ambada leaves/Gongura akulu (telugu)
Method
Add water to the dal in the ratio of 1 Cup dal = 2 Cups water
:
Boil the dal with salt, turmeric powder and slit green chillies.add few drops of edible oil
After 3-5 whistle ,switch of the pressure cooker and let it cool for 10 -15 minutes and then open the Lid
Mash the Dal for smooth dal ,
Now Boil the Vegetables you want to add such as Bottle Gourd,Ridge gourd,Mango,Yelow cucmber (cut into cubes)
or sorrel leaves
Add the cooked Dal to sauce pan/Stainless steel vessel .switch on the flame ,Place the vessel on low flame
Add Green chilli (split vertically),Turmeric powder,Salt,Red chilli powder(optional)
Add boiled vegetables such as Raw Mango or yellow cucumber or spinach (blanched- no need to boil just keep it in hot water for 5 minutes) and Mix well ,You may add Tamotoes at this stage
add Tamarind juice (check salt once again) plz donot add more tamarind juice as the dish become too sour to eat
In another pan, heat oil, add the Mustard seeds,Urad wash,chanadal jeera and garlic cloves,Red chilli and Curry leaves and lastly Hing (asofotida) saute on a high flame Let the ingradients splutter
Now Add the Tadka to Dal ,Cook in Low flame
Switch off the Flame and Garnish with chopped coriander leaves.
Notes : Tamatoes cut into big cubes/quartered) can be added as vegetable and cook Tamato Dal,if Raw Mangoe pieces added it is called Mango pappu/Mango Dal
****************************************************************
BASIC SAMBAR - STEW OF LINTILS AND VEGETABLES
WITH INDIAN SPICE POWDERS
MAIN INGREDIENTS
Toor dal/Arhar Dal/Pigeon peas skinned and splitted / red gram /Kandi pappu – 1/4 cup
Tomato – 2
Beans – 10 no.
Carrot, potato, brinjal – 1 no. in each
Bottle gourd – few pieces ( you can choose any vegetables )
Green chilli – 1
Dry chilli – 2
Onion – 1/4 cup
Garlic – 2 no.
Jaggery – small cube
Tamarind – small pulp
Mustard seed – 3/4 tsp
Urad dal – 1 tsp
SPICES
( Instead of these spices you can use 3 tsp of ready made sambar powder like MTR, Shakthi,Which are available in Indian grocessary stores ..,)
Chilli pdr & coriander pdr – 1 tsp each
Cumin & fennel seed pdr – 1/2 tsp each
Asafoetida & turmeric pdr – pinch
Garam masala – 1/2 tsp
METHOD
1. Cook toor dal till it becomes mushy, set aside.(please see basic Dal cooking on Top post)
2. Make tomato puree from a tomato to get nice colour for sambar.
3. Heat a kadai with 2 tsp of oil , crackle mustard seed and urad dal. Then saute curry leaves, green chilli, garlic, onion, dry chilli till you get light colour change.
4. Now add all vegetables with sauteed ingredients. Add tomato puree, spices, salt, jaggery, tamarind water and required water.
5. Add these mixture with cooked toor dal and let it cook for 2 pressure sounds.
6. Garnish sambar with corinader leaves
**************************************************************
BASIC RASAM -CHARU RECIPE
Main Ingradients
For the rasam:
9-10 medium size red and juicy tomatoes
1 or 2 cups water
salt
For the spice herb mixture:
½ cup coriander stems with or without leaves
1 inch ginger/adrak
8-9 garlic/lahsun
10-12 black pepper/sabut kali mirch
1 tbsp cumin seeds/jeera
For the tempering:
2 tbsp oil
2 to 3 sprig of curry leaves/kadi patta
a pinch of asafoetida/hing
1 tsp mustard seeds/rai
1 tsp urad dal/husked split black gram
1 or 2 red chillies, broken
½ tsp turmeric powder/haldi
METHOD
blanch or steam the tomatoes.
once they cool, chop them and blend to a smooth puree.
in a grinder or mortar and pestle make a coarse paste of all the ingredients mentioned in the spice
herb mixture list above.
heat oil and fry the mustard seeds. when they start to crackle add the urad dal.
fry the urad dal till light brown and then add all the other tempering ingredients, except turmeric
powder.
fry for a minute
add the coarse herb and spice paste. add turmeric powder and fry for a minute.
now add the tomato puree. add the water and salt.
bring to a thorough boil and then simmer for 10-12 minutes.
garnish tomato rasam with coriander leaves.
serve tomato rasam hot with rice.
***********************************************************
BASIC GRAVY CURRIES
Here we learn all kinds of gravys used in North Indian Cooking
Kadhai gravy/ sauce
This is a gravy which is selectively used in Indian cuisine for making kadhai dishes only like kadhai paneer or sabz kadhai or chicken kadhai .
The characteristic flavours of this gravy are sweet , sour , bitter , astringent, salt, spicy . All six flavours must be felt in this gravy to make it a complete dish.
Main Ingradients
Tomatoes 1 kg / Cream 100 ml / oil 100 ml
Ginger 20 gm/ garlic 20 gm/ g chilies 10 gm / g coriander 50 gm/ capsicum 100 gm
ginger garlic paste 20 gm / kadhai spices ,crushed (corriander seeds, fennel seeds, cumin seeds , black pepper whole, red chili whole) 10 gm
red chili powder 5 gm/ turmeric powder 2 gm/ coriander powder 10 gm / salt 20 gm / kasoori methi powder 5 gm/ sugar 5 gm
METHOD
Heat oil, crackle the crushed spices , add garlic chopped and sauté till golden brown. Add half of ginger chopped and green chilies , sauté and then add capsicum purée. Cook continuously till the oil separates . Add ginger garlic paste and sauté till oil comes up.Add chopped tomatoes and sauté till soft . now Add half of ginger , green chilies , a pinch of sugar,Kasoori methi powder and cream . Stir well and simmer . Finish with crushed spices and chopped coriander.
Although the last two ingredients are used when you are making a particular dish like kadhai paneer , and these are put in the end and served otherwise the gravy alone need not require to add these ingredients . I added here just to clarify when to put these ingredients .
Usage
this is the only gravy which is used alone and not in combination of other ingredients. The six flovours mentioned above are obtained by sugar, tomatoes, crushed coriander ,ginger , salt and spices.
*************************************************************
Yellow gravy
Categories: basic Indian gravies
Yellow gravy/ sauce
This is a rich gravy with yellowish colour which helps in making a beautiful product when used alone or in combination of other basic sauces. Generally small establishments prepare only three basic sauces i.e. makhni , masala and yellow gravy to create the menu.
Main Ingradients
brown onion 500 gm / yoghurt 400 gm/ ginger garlic paste 30 gm/cashew 100 gm / tomato paste 30 gm / oil 200 ml
red chili powder 5 gm/ turmeric powder 10 gm/ coriander powder 5 gm/ salt 15 gm
METHOD
Make a paste of brown onion -yoghurt and make another paste of cahewnut only but it should be fried to a golden colour first.
Now heat oil , sauté ginger garlic paste, powdered spices and tomato paste .
Once the oil separates , add yoghurt and onion paste .
Simmer till a boil comes , add cashew paste and simmer till the sauce is cooked well and oil starts appearing on the surface .
The gravy should be having plenty of oil to start with as the cashew will absorb lots of oil and the yoghurt paste should be added in a thin state as it will make the cooking easy and smooth.
****************************************************************
Categories: basic Indian gravies
Brown gravy/sauce
This is another very importantly used gravy in Indian cuisine . The main purpose of this gravy is to give a binding base to the curries where richness is not required and simultaneously the curry look is also required like as egg curry. It is very simple to make and utterly useful .
Main Ingradients
Onion 1 kg/ tomato 1.2 kg/ oil 100 ml/ ginger garlic paste 30 gm
red chili powder 10 gm/ turmeric powder 5 gm/coriander powder15 gm / salt 15 gm/ garam masala powder 10 gm
METHOD
Onions is sauteed in oil till it starts browning and then ginger garlic paste is added. once it satrts sticking to the base , add tomatoes with powdered spices and salt . saute well till oil appears on top and the tomatoes are cooked .
Now blitze the sauce and bring it back to the sauce pan and simmer further.
We may add water if required to avoid sticking or over thick gravy .
Now the colour of pureed gravy will satrt changing from orangish colour to brownish . Simmer for 5 more minutes till a red oil start oozing from the gravy and it gives a granular appearance to the gravy.
Keep aside.
This gravy is generally used to make basic curries like chicken curry or egg curry where the key ingredient is sauteed in oil and further simmered in this basic sauce till cooked Or it can be used in proportional quantities with other basic sauces to create delicacies like matar paneer. Here primarily brown gravy and a dash of white gravy gives a required taste of matar paneer .
****************************************************************
Categories: basic Indian gravies
Masala gravy/ sauce
This is the most versatile Indian gravy as it incorporate onion and tomato and thus can be used in preparing most of the recipes as the dishes in India mostly require these two ingredients in one way or the other. This is also called 'Kanda masala' in Maharashtra as the word 'Kanda' means onion in Marathi language.
Main Ingradients
Oil 100ml/ ginger garlic paste-30 gm /Onion 1 kg/ tomatoes 800 gm/ tomato paste 50 gm
Red chili powder 5 gm, turmeric powder 3 gm/ coriander powder 10 gm/ salt 15 gm
METHOD
Heat oil and saute onions till it becomes evenly golden brown and crisp, but not dark brown.Now add ginger garlic paste dissolved in water . It instantly cools it off. Keep coking and while the water is reduced , the onions are softened as well to give the gravy a smooth appearance.The onion in uk is very tough so extra cooking time is required . Hence after the onions are browned , addition of water helps them cook properly.
Once the ginger garlic paste start sticking on pan and showing brown colour , add turmeric -saute and then tomatoes , add salt and spices. Saute well , till the tomatoes are cooked and the oil appears on surface . Now add the tomato paste to the sauce and simmered .The gravy must look shiny and chunky yet no clear signs of onion and tomatoes which must be semi dissolved during cooking.
Tomatoes cooks faster when salt is added , hence I added salt here after the tomatoes are added to the onions. The cooking should be done on medium flame and if it sticks to the pan during the process, small amount of water can be added occasionally.else it will give a blackish appearance . All the gravies must be cooked in extra amount of oil as it helps in cooking and helps in retaining the freshness of the ingredients once stored for further use.
Usage
The gravy is a base to endless dishes like paneer lababdar where the paneer is simmered in the sauce with extra load of cream to look orange in colour and otherwise it can always be used in measured combination with other basic sauces to create ever favourite dishes like chicken do pyaza and aloo dum masala
**************************************************************
White Gravy or Silky Gravy
This sauce was developed during the moghul era,when the moghul emperors wanted to enjoy moon light dinner in the courtyards of Taj mahal .The creaminess of the gravy was prepared to match the mood of the evening .
Main Ingradients
Onion250 gm/ cashew 100 gm /200 ml water
Oil 100 ml/green cardamom, bay leaf 2 no each/green chilies 2 no/ ginger garlic paste 30 gm/
yoghurt200 ml/ cream 50 ml/ white pepper powder 1 tsp/green cardamom powder 1 tsp.
METHOD
Simmer cashewnuts in boiling water for 5 minutes and drain. It washes away the impurities . Mix the onion chunks with cashew nuts and water simmer till the onions are soft. Drain the mixture and grind it.
Heat oil, crackle whole garam masala and slit chilies. Add ginger garlic paste. Saute well till it start's browning .
Pour beaten yogurt with some water and put on slow flame till it starts boiling. Care should be taken at this stage for temperature . If raised , it may result in curdled yoghurt.You can beat the yoghurt with 20ml of cream . It helps in stabilization.
Once it boils, add cashew onion paste and stir it on simmering heat till oil appears on the surface .Finish with white pepper powder and green cardamom powder .
The point to note here is that the yogurt and cashew onion paste should be thin like pouring consistency else it will be quiet uneasy to boil on slow heat . And the oil should also be little more than required as the gravy absorbs the fat because of cashews .
Usage-
The sauce is generally used to prepare rich dishes like shahi paneer dishes where the paneer cubes are simmered in the sauce else it is also used in measured combination of other basic sauces to create ever favourite dishes like qorma and pasanda .
***************************************************************