This is a list of snack foods in alphabetical order by type and name. A snack is a small portion of food eaten between meals. The food might be snack food—items like potato chips or baby carrots, but could also simply be a smaller amount of any food item.
KANDA POHA OR ONION POHA from Pakashalaindiankitchen
Hi Please follow the recipe for POHA ,A Dish from Maharashtra,Easy recipe for Breakfast,Lunch Box or for evening Tea time Snack.




Ingredients

1.5 cups poha (atukulu in telugu please use large sized poha as this will make poha attractive) - white beaten rice or flattened rice

1 large onion, finely chopped
¼ tsp turmeric powder
1 tsp mustard seeds
1 tsp chana dal
2 or 2.5 tbsp peanuts
2 or 2.5 tbsp cashew nuts (optional as kids love nuts)
10-12 curry leaves
1 green chills,chopped
1 or 1.5 tbsp OIL

salt as required (as per your taste)

Method

1)rinse the POHA in water till they soften.(please don't soak for longer time,that will make poha too soft) Max 10 Minutes

they should loose their crunchiness and when you break them between your finger, they should easily get crushed or mashed.

2)Now add salt and turmeric powder to the POHA and gently mix.
3)Dry roast the peanuts in a pan till they become crunchy.
4)Heat OIL in the same pan.(u can add little turmeric powder also to oil for colour)
5)crackle the mustard seeds,Chana dal first

6)then add onions and saute them till they become translucent.

7)add curry leaves and green chilies.
8)saute for half a minute.
9)add the roasted peanuts and stir.
10)add the poha and stir.
11)cover and steam the poha for 2-3 minutes on a low flame.

12)when cooking check after 1 or 1.5 minutes and give a stir again
.
13)switch off the fire and let the Poha remain covered for 1-2 minutes.
remove the lid

14) Lastly sprinkle some lemon juice, coriander leaves and grated coconut (optional)
.
15) give a gentle stir and serve onion POHA hot with tea.

You can also add other vegetables like boiled Potatoes, boiled (or frozen) Green peas to make it a more substantial meal..
FRENCH FRIES OR GOLD FINGERS
FRENCH FRIES /WIDGES/FINGER CHIPS/FRITES
French fries are served hot, either soft or crispy, and generally eaten as an accompaniment with lunch or dinner, or eaten as a snack, and they are a common fixture of fast food. French fries are generally salted and, in their simplest and most common form, are served with ketchup
We can make them at home also,though not as perfect as Mc D or other fast food Joints
4-5 medium size potatoes (please prefer

potato

with skin getting

ditched

)

cold water

red chili powder(optional)

regular salt as required
chop the potatoes lengthwise.

rinse them in water a couple of times.

now add them to a bowl of cold water.

keep in the fridge for 1 hour.

the potatoes should be totally immersed in the cold water.

after 1 hour remove the bowl of potatoes.

drain and wipe dry the potatoes.

in a pan heat oil to medium hotness.

fry the potatoes till they cooked and soft.

drain on kitchen tissues and let them cool.

later again heat oil.

this time the oil should be hot.add salt to oil

fry the potatoes till they become crisp and browned.

drain on kitchen tissues again.

serve the hot french fried with a sprinkling of Red Chilli powder (optional) accompanied by tomato sauce.
soaking the potatoes in cold water help them to get crisp nicely and they get evenly fried.

rinsing the potatoes in water or cold water helps to remove starch, which can cause the potatoes to stick together during the frying process.

alternatively, for crispier french fries you can also soak the potatoes in salt water for several minutes before frying.
Vegetable Sandwich from Paka Shala Indian Kitchen
INDIAN VEGETARIAN SANDWICH (BOMBAY SANDWICH)
This is a famous street food of Mumbai and Best Breakfast,Lunch Box Item and for journeys.a health recipe with raw vegetables,Easy and Quick one to make
Ingredients cup used, 1 cup = 250 ml)
8 slices of white or brown bread

1 potato, boiled and sliced into rounds

1 beetroot, boiled and thinly sliced

1 cucumber thinly sliced

1 small onion thinly sliced

1 tomato, thinly sliced

1 small bowl of green mint coriander chutney

butter as required

chaat masala as required

black salt to taste

roasted cumin powder - optional

freshly milled black pepper - optional

tomato ketchup or sauce to be served with the sandwiches
for the mint cilantro chutney:
1 cup fresh chopped mint leaves

1 cup fresh chopped coriander/cilantro leaves

1 green chilli ( add more chillies if you want the chutney to be spicy)

½ inch ginger/adrak

1 tsp cumin powder/jeera powder - optional

juice of ½ lemon - optional

salt or black salt
making the mint cilantro chutney
in a mixie or blender grind all the above ingredients to a smooth paste using little water. Mix salt in the chutney. Keep in an airtight container in the refrigerator.
preparing the veg sandwich:
trim the edges of the bread slices.

butter the bread slices.

now apply the chutney to the slices.

place all the veggie slices one by one.

sprinkle the black salt and chaat masala.

cover the sandwich with the other bread slices.

slice the sandwich into triangles and rectangles.

serve veg sandwich immediately with tomato ketchup and the mint cilantro chutney
tips:

1: you can cook the potato in the microwave. wash the potato well. prick the potatoes with a fork and microwave in the oven for 4-5 minutes.

2: when the potatoes are getting cooked, you can slice the other veggies and even make the chutney.
VADA PAV -MUMBAI 'S OWN SPECIALITY
Vada Pav or Wada Pav
is the common man's food in Mumbai and is a popular street food snack across whole Maharashtra. You will find shops selling vada pav all over mumbai and even outside schools and colleges. It easy to make and serve.
To make 8 Vada pavs you will need:
8 Batata vadas or Aloo Bonda
1 Small bowl of green chutney or you can use Green Chilli sause
1 Small bowl of Sweey Tamarind Chutney or alternatively you can use Tamoto sause
2 tbsp Dry red chutney (alternatively you can use Red Chilly Sause)
8 Pav Breads (available in any Bakery)
5-6 fried salted green chillies



Instructions
Make a vertical slit in the pav. Don't cut it. Just slit it till the base. If you don't have pavs, you can use burger buns.

Apply the green chutney on one side and the sweet chutney on the opposite side.

Sprinkle the dry red chutney on the pav.

Keep the batata vada inside the pav and serve vada pav with the green chillies, chutney or Sauce

The vada pav can be served during breakfast, it can be had as a brunch and even an evening snack. In fact, you can have it any time of the day. Vada Pav go very well with tea.
Notes

You can always alter the amount of chutneys you apply in the pav according to your taste and liking.
ALU TIKKI -VEG CUTLET
Aloo tikki is a North Indian snack made of boiled potatoes and various spices. "Aloo" means potato, and the word "tikki" means a small cutlet or croquette. It is found in almost every chaat shop or stall in Delhi as well as in other parts of India.
3 large boiled aloo (potatoes)
1 tsp salt or as per taste
1/4th tsp ground black pepper
Corn Flour 1 tbspoon

For Stuffing:

2/3rd cup matar (green peas) cooked or frozen peas defrosted
1/2 tbsp scrapped and minced ginger
1/4th tsp garam masala
1/4th tsp salt or to taste
Red chili powder to taste (optional)
1tsp coarsely ground dry-roasted cumin seeds
Oil for pan-frying.
Take the cooked or defrosted peas (matar) and mash them using a spoon or a fork. Add all the stuffing ingredients except Oil

and mash briefly. Divide the mixture into 10 equal portions and keep aside.

Peel the potatoes and mash them very finely into smooth mashed potatoes. Add salt Add Corn flour and pepper and knead until properly mixed.

Divide it into 10 equal portions.

Now wash and dry your hands and rub them with little oil.

Take each portion of potato mixture and make a ball. Now

Taking one at a time, gently flatten each ball into a round patty of about 1/2-inch thick and place a portion of stuffing in the center and fold the edges together very finely so that mixture does not come out.

Now very gently flatten it into a 2-inch patty. Repeat the procedure for all pieces.

Heat 1 tsp. oil in a non-stick pan over a low heat. Slip in the patties, not too many at a time, and pan-fry on both sides till crisp golden brown, adding oil if required, on a very low heat.

Serve aloo tikki hot with chutney and stirred curd.

Note : Boil potatoes until fork-tender. Preferably, potatoes should be boiled well in advance before use. It would be better if they can be refrigerated for a short time.



Note : this tikki can be used in indian kind of Burgers
Panner Tikka (on Tawa)
Paneer tikka
is an
Indian dish
made from chunks of
paneer
marinated in spices and grilled in a
tandoor
.
It is a
vegetarian
alternative to
chicken tikka
and other meat dishes.
It is a popular dish that is widely available in India and other countries with an Indian Expatriate population
250 to 300 gms paneer

1 medium to large bell pepper (green, yellow or red)

1 medium to large tomato

1 medium to large onion
250 gms thick or hung yogurt/curd/dahi, about 2.25 cups of thick yogurt

4 tbsp besan/gram flour

½ tsp turmeric powder

½ tsp black pepper powder or white pepper powder

½ tsp carom seeds/ajwain

½ tsp caraway seeds/shahjeera

½ tsp kasuri methi, crushed

1 tsp coriander powder

1 tsp cumin powder

1 tsp chaat masala powder

1 tsp garam masala powder or tandoori masala powder

1 tsp dry mango powder/amchur powder

2 tsp kashmiri red chili powder, if using a hotter variety of red chili powder, reduce to 1 tsp

¾ tbsp ginger garlic paste, about 5 to 6 medium to large garlic cloves and ¾ inch ginger crushed in a mortar-pestle

¾ tsp lime juice

2 to 3 tbsp oil or as required

¾ tsp regular salt or rock salt or add as required
METHOD
prepping the paneer & veggies:
slice the paneer into ¼ inch squares or cubes or rectangles.

rinse the veggies. halve the onion and remove each layer one by one.

dice the capsicum/bell pepper into square shaped slices.

dice the tomatoes too the same way. remove the seeds from the tomatoes.

keep the veggies and paneer aside.
first whisk the thick yogurt till smooth in a bowl or pan.

add all the spices and herbs, besan/gram flour and salt, except oil. stir and mix well. taste the marinade and add salt it required

add the diced vegetables (onion, tomato and capsicum) along with paneer slices.

with your hands mix very well. so that the marinade coats the paneer and veggies evenly.

cover the bowl & keep the marinade in the fridge for 45 minutes to 3 hours. you can also keep overnight.

heat 1 tbsp oil in a non stick pan/tawa or a well seasoned griddle. coat the paneer and veggies with the marinade and place them on the tawa. you can fry at a low flame or medium flame.

in all i fried in 3 batches and overall used about 3 tbsp oil. another way is to skewer the paneer, veggies and then fry them. i chose to fry them directly as they get fried evenly and the texture is better.

when one side gets browned, gently lift and turn over. the paneer cubes will get cooked faster than the veggies.

you can can char or brown the veggies more. but remember to remove the paneer cubes as soon as they are golden. if you want you can fry the paneer cubes first and then the vegetables. remove them on a plate.

while still hot, then skewer the fried paneer cubes and veggies on to a wooden skewer or toothpick.

you can also have them straight away without skewering. sprinkle some chaat masala & lemon juice on the paneer tikka.

arrange them in a serving plate and serve the paneer tikka hot or warm with pickled vinegar onions (sirke wale pyaaz), or pyaaz lachcha (onion lemon salad) or mint yogurt chutney.
________________________________________________________________
South Indian Snacks
SUNDAL - POPU SENAGALU/
CHIC PEAS WITH TAMPERING
Sundal
is a South Indian snack made out of Beans , Peas , Chick peas ...
sprouts

recipe

…..love ti try this soon….yummy….and healthy too…
1 cup (abt 180 grams) Bengal Gram ?Kabuli Chena or Black Gram dal (Black Chickpeas)

Pinch of Turmeric,

1 tsp Mustard Seeds

1/2 tsp Urad Dal (skinned and split Black gram lentils)

1-2 Dried Red Chilli

Few sprigs of Curry leaves, torn

Pinch of Asafoetida

Salt to taste

Fresh Coconut (grated) 2-4 Tbsp -Optional



Optional additions
1 Green Chilli, or to taste, see Tips
Ground Pepper to taste, see Tips
Lemon Juice, freshly squeezed, to taste, see Tips
Soak the kabuli chena for min 6 hours. If using a pressure cooker, soaking speeds up the cooking process considerably.
2 pressure cook this with just enough water to cover the lentils along with turmeric
You would need to cook it for just one whistle or about 6-8 minutes (esp. if you have soaked it). Otherwise cook for 2 whistles (or abt 10 min).
Heat some oil abt 1-2 tsp. in a pan Add the mustard seeds and when they stop popping, add the lentil, chili and asafoetida.Dry Chillies,Urad wash
Add the coconut and curry leaves.
Add the drained lentil along with salt and pepper. Toss until combined.
7.Remove from heat and then add some lemon juice if using.
1. Green Chilli: Depending on the level of heat you like, you can increase the amount or simply skip using chillies. For the sake of flavor, I added 1 dried red chilli. We do not prefer heat in our food, hence I prefer this way.

2. Coconut: My mother never included coconut in our meals hence she makes this without it. But for added flavor I add 2 generous tbsp of coconut. I would recommend using fresh coconut, but frozen (and thawed) coconut works well too. If on diet restriction (or on a diabetic diet), simply skip using any.

3. Pepper: Traditionally this is not used in a sundal, but I add freshly ground pepper to any preparation that involves turmeric. Its optional.

4. Lemon: I don't remember my mother adding lemon juice to this, but I do add a little bit of citrus to my lentil preparations to help our body absorb the iron from the lentils. Its optional.
****************************************
SOUTH INDIAN IDLI
1 cup sona masoori rice or regular rice

1 cup parboiled rice

(Alternatively you can use Idli rava if available in your markets,The Ratio is 1 cup Urad wash 2 1/4 cup idli rava and 1/4 th cup poha rice/atukulu in telugu)

1 cup urad dal/black gram, skinned whole or skinned spilt

¼ cup poha/flattened rice

¼ tsp methi seeds/fenugreek seeds

water as required

salt

oil to apply to the idli moulds
pick and wash both the rice and urad dal.

soak the rice and poha in water for 4-5 hours.(if it is Idli rava 30 minutes soaking is enough for idli rava)

soak the urad dal with methi seeds separately for 4-5 hours.

drain the soaked urad dal. reserve the water.

grind the urad dal, methi seed with some of the reserved water till you get a smooth and fluffy batter.

grind the rice to make a smooth batter.

mix both the batters together in a large bowl or pan. add salt and mix wellell.



cover and let the batter ferment for 8-9 hours.

after the fermentation process is over, the batter will become double in size and rise.

gently mix the batter.

grease the idli moulds.

pour the batter in the moulds steam the idlis in a pressure cooker or steamer.


if using pressure cooker remove the vent weight.whistle.



steam for 10-12 mins or until the idlis are done.

Remove the Idli with thelat spoon carefully

remaining batter can be stored in the refrigerator.

serve the steaming hot idlis with coconut chutney and sambar.
****************************************
Indian Street food

Puffed rice masala Snack
Main ingredients :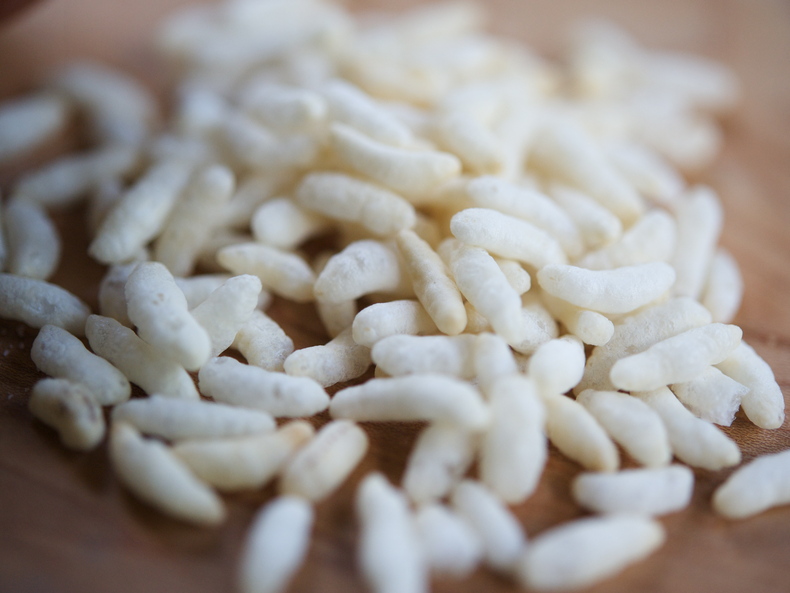 1 packet of puffed rice
1 packet bhel mix or sev
2 cups coarsely chopped boiled
potatoes
1/2 cup chopped fresh cilantro
3 tbsps freshly roasted and ground
cumin
1 or 2 green chilies, chopped
1 tsp freshly ground black pepper
4 tbsps tamarind
1/2 cup jaggery or brown sugar
1 cup chopped onions
Method :
First boil the potatoes. Peel, chop
and salt them,
add chaat masala to
taste
. Add the cilantro leaves.
Roast the cumin and grind it.
Dissolve the
tamarind concentrate in 1 cup of
hot water, and let it simmer to
thicken gradually.


Dissolve the
jaggery (or sugar) until the sauce
becomes tart and slightly sweet.
You may add some salt and ground
red paprika/Chilli powdr , if you want to.
The
sauce should be of a consistency

slightly thinner than maple syrup.
Pour into a serving container (like a
creamer).
Mix the puffed rice and
sev/bhel mix in a large bowl.

On your plate, serve the rice-bhel
mixture, add the potatoes, then the
onions, chilies, dust the chaat
masala powder over it.
Then pour
the sauce and top off with the coriander leaves


***************************************************
Bread Rolls
5-6 slices of white bread or brown bread or any multi grain bread

2 medium sized potatoes

½ tsp dry mango powder(or you can use tomoto ketchup,just to give little sourness to the stuff)

½ tsp crushed black pepper or ¼ tsp black pepper powder

¼ tsp red chilli powder

1 green chilli, chopped

¼ tsp garam masala powder

¼ tsp cumin powder

½ tsp chaat masala

2 to 3 tsp chopped coriander leaves

salt as required

2-3 cups oil to fry/cook stuffing

4-5 garlic flakes

1 table spoon of Corn flour made into thick batter with water
boil the potatoes.

when they are still warm, peel and mash them and keep aside.

crush the garlic flakes to a paste

add the Dry mango, crushed black pepper, red chili powder, chopped green chilies, coriander leaves, garam masala powder, cumin powder and chaat masala powder and salt.add crushed garlics add 2 t soon Tomato ketch up if Dry mango (am chur ) is not with you

mix the whole filling well.

make small to medium rolls of the filling depending on the size of the bread and how many you are going to use.

taste and add more salt or spice powders if required.

trim the edges of the bread

take a slice of edges trimmed bread and dampen it with water,

squeeze the water from the bread.

place the filling in the center of the bread.

roll the bread and close the edges so as to get an even outer cover.Close the edges with corn flour thick paste to seal the edges perfectly(this will avoid spilling)

make all bread rolls this way and keep aside.

heat oil in a kadai or vok.

fry the bread rolls till they become crisp and golden in color.

drain the bread rolls on kitchen paper tissues to remove excess oil.

serve the bread rolls with tomato sauce or green chutney.

________________________________________
Royal Hyderabadi-Veg-Kebabs
Here is the delicious Shikampuri
kebab
recipe for you from the royal kitchens of
Hyderabad
. Give it a try and enjoy the unforgettable flavor
Main Ingredients
2 potato (Aloo) par boiled
1 cup cottage cheese (paneer)
1 cup cauliflower (phool gobi)
1 cup cabbage (patta gobi)
2 green chilly (hari mirch)
1/4 th cup blanched green peas(matar)
1/4 tsp azinomotto powder
1 cup Gram flour(besan)
2 Tea spoons Rice flour
1/2 tsp red chilly powder (lal mirch ki powder)
oil for frying
1 tbsp clarified butter (ghee)
1 tsp salt (namak)
1 tsp of Mint leaves(Pudina patti)
1 tbsp coriander (dhania patti)
Method :
Boil, peel and grate potato.
Grate paneer (Indian cottage cheese)also.
Finely chop coriander leaves<mint leaves and and green chili
Grate both the cauliflower and carrot,cabbage.
Heat oil in a pan and fry chopped onion cabbage,cauliflower, with Azinomotto (MSG)powder.
After frying for few minutes, add mashed potato paneer, green peas,green chili and 1/2 tsp salt and cook until the water dries up.
Add gram flour and Rice flour to the frying pan
Remove it from the flame and let it cool.
add chopped coriander leaves and Chopped Mint leaves
coarsely mince it on blender
Make small circles of the mixture and keep aside.
Heat oil in a pan.
shallow fry them until they turn golden brown.
Turn the tikki upside down and repeat the process
Serve them hot with Green Mint Chutney.
HYDERABADI IRANI CHOTA SAMOSA (ONION SAMOSA)
A very unique Hyderabadi recipe. These samosas are typically found in Irani cafes, which are a very popular around the city.

Main Ingredients
For outer shell of Samosa
Whole wheat flour (atta) – 1/2 cup
All purpose flour (maida) – 1/2 cup
Rice flour/Corn starch – 2 Tbsp
For Filling in side Samosa
Poha : (flattened rice) :3 cup ( 1 cup of chopped onion = 1 cup of Poha )
Onions (chopped) – 3 cups (from 2 large onions)
Coriander powder – 1 Tbsp
Chat masala 2 tsps
Red chilli powder – 1-2 tsp (adjust to taste)
Coriander/Cilantro leaves – 1/4 cup (chopped)
Mint leaves 1/4 Cup(chopped)
Amchur (dry mango powder) – 1 tsp OR Lime juice – 2 tsp (optional)
Making of the Dough:
Take one cup of all purpose flour and one cup wheat flour and rice flour mix with little oil, salt to taste and water. Make it a soft dough and rest it for 30 minutes covering it with a damp cloth.
Making of the Filling:
Take 1 cup of finely chopped onions, 1 cup poha (rice flakes), salt to taste, 1 tb sp spice mix (red chilli powder+coriander powder+garam masala powder) little lemon jiuce(1-2 tsps) or 1 Tsp Amchur powder Mix together and keep it aside.
(The science involved in this filling is very interesting. While frying, the moisture in the onions is absorbed by the rice flakes thus maintaining the taste balance of the filling)
Making of the All purpose flour sealant gum:
Mix 1 tb sp all purpose flour with 1 tsp water to make a gum like paste. Adjust consistency.(Hereinafter called All Purpose Flour GUM paste
HOW TO MAKE
Now prepare 2 inch by 6 inch ribbon chapatis out of the dough kept aside. I am calling it ribbon chapati because, they should be as thin as ribbons. If they are not thin, your samosa will not be crispy. Dry toast it on a pan till you see air bubbles or dry ribbon chapati patti (toast it for for 2-3 seconds).
This is done to find comfort while folding

Dry Roast the Samosa patties on Skillet/Tawa/Pan
.
Rub the all purpose flour paste on the ribbon. Now fold it as shown in the image here
Fill the pocket of the ribbon chapathi with 1 tsp of the filling. Seal it with all purpose flour paste . In this way, prepare all the samosas.
Now take a kadai and fry for the first time in high flame for less time. Let them cool off.
Now fry for the second time in medium flame till they become golden brown in colour and crispy. Let them cool off. Try with irani chai and osmania biscuit.

****************************************
Bread Upma

is

Easy breakfast or snack or even lunch box idea for your kids,So simple to make just tadka (seasoning/Tampering) and add Bread cubes,cook for few minutes,your dish is ready to serve
Ingredients

10 slices of bread, white or brown
4 tablespoons oil
1/4 teaspoon black mustard seeds
1/2 tea spoon white urad dal
1/2 tea spoon Chana Dal
1 tea spoon Cashew Nuts or pea nuts(de husked) Optional
1/2 cup coarsely chopped onion (1 small onion)
1/2 teaspoon minced ginger, optional
1 green chili, (chopped)
1/4 teaspoon turmeric powder
1/4 th Tea spoon red chili powder (optional)
1/2 teaspoon, or according to taste red chili powder
1 tomato de -seeded and chopped
1 teaspoon lime juice
2 tablespoons chopped cilantro for garnish
Method

1. Cut off the crust of the bread. Discard the crust or save for making bread crumbs. This is optional, you can leave the crust on if you like. Cut the bread into cubes.

2. Heat oil in a large wok. Add the mustard seeds,Urad Dal,Chana Dal,Cashew nuts/pea nuts,curry leaves. When they pop, add the onion, ginger and green chili. Saute on medium heat till the onion is translucent

.


3. Then add the turmeric and red chili powders. Stir for a few seconds.

4.Add tomato,cook for 2 -3 minutes



5. Add in the bread cubes to wok/kadhai

6.Add 1/2 cup of water and stir gently ( little water )

7 Add .lime juice and salt

8. Stir gently till everything is evenly combined and the bread has absorbed all the spices and turned yellow. About 4 minutes,

9. Garnish with chopped coriander leaves/ cilantro.
Note :

1)You may Add other vegetables of your choice such as chopped Carrot/shredded cabbage/green peas etc (optional)

2)Non vegetarians may Add Egg (add little milk) and then Add to hot oil in the Wok/Kadhai.




________________________________________


MASALA DOSA /DOSAI -SOUTH INDIAN SPECIAL
Ingredients
Ingredients for the Dosa Batter:
1 cup regular rice
1 cup parboiled rice/ukda chawal
½ cup spilt black lentils or urad dal
¼ cup poha/flattened rice
¼ tsp fenugreek seeds (methi)
salt to taste
water as required
Ingredients for the Masala - Potato filling:
4-5 potatoes/aloo
10-12 cashewnuts/kaju (optional)
10-12 curry leaves/kadi patta
1 tbsp chana dal/bengal gram
3 onions sliced or chopped
½ tsp mustard seeds/rai
1 tsp cumin seeds/jeera
1 or 2 chopped green chillies/hari mirch
1 or 1.5 tsp chopped ginger or grated ginger
2 tbsp chopped coriander leaves/dhania
½ tsp turmeric powder/haldi
a pinch of asafoetida/hing
3 tsp oil or ghee
salt
Instructions
Preparing the Dosa Batter:
Rinse the rice and urad dal separately first.

Soak the parboiled rice, regular rice and poha in a bowl or pan.

In another bowl soak the urad dal-methi in enough water

Grind the urad dal with methi to a fine and fluffy batter.

Grind the rice and poha to a smooth batter.

Mix both the rice and urad dal batter with salt.

Cover and let the batter ferment for 8-9 hours.

Add caption
Preparing the potato filling-sabzi:
Soak the chana dal in hot water for 30 minutes.

Later drain the chana dal and keep aside.

Heat oil or ghee. Fry cashew nuts and keep aside.

Splutter the mustard seeds. add cumin seeds and drained chana dal.

Fry the chana dal well. Now add the onions and curry leaves.

Fry the onions till they become soft. Add the green chilies and ginger.

Add the turmeric powder and asafoetida. Mix well.

Now add the boiled chopped potatoes. Add the fried cashew nuts and salt

Cook for 2-3 minutes stirring well. Add chopped coriander leaves. Stir and keep aside.
Preparing the Masala Dosa:
Heat a flat pan or a flat non-stick pan. Smear some oil if using an iron pan or griddle. don't smear oil on a non stick pan, as then you won't be able to spread the dosa batter.

Spread the dosa batter in a circular way on the pan. Add some oil on top







Flip and cook the other side. Flip again.

Spread the potato sabzi filling on one side of the dosa.

Cover with the other half and let the dosa cook for 15-30 seconds.

Serve masala dosa hot with coconut chutney and sambar
- If you are unable to spread the batter on the pan, then add some water to the dosa batter. this will help you in spreading the batter evenly on the pan.
- To get golden brown dosa, the pan should be hot. But the flip side is that if the pan is very hot, then you cannot spread the dosa batter nicely. Either sprinkle water on the pan and then wipe it. This brings down the temperature of the pan. Do this method on an iron pan. Don't do this on a non stick pan. It might affect the non stick coating.
- If using a non stick pan than as soon as one dosa is done, reduce the flame. Spread the dosa batter on the pan. now increase the flame and let the dosa cook.
****************************************
MYSORE BONDA (Mysore Bajji) South Indian Snack and Breakfast Item From Indian Kitchen -Pakashala
M
ysore bonda
Mysore bonda
orMysore Bajji or ulundu bonda is a popular fried snack from the mysore cuisine. bonda are round fritters Very popular dsh in Southern India,this is snack Item and Break fast Item.those with high cholesterol levels ,i request you to avoid this delicious dish
Ingredients:
Maida flour( All purpose flour) - 1 and 1/2 Cups
Sour Curd - 1 cup
Soda salt (Baking Soda)- 1 teaspoon
Cumin Seeds - 1/2 teaspoon (optional)
Slited coconut pieces - 1 tablespoon (optional)
Salt - To taste
Edible Oil - For Frying the bondas
Method:
Mix the flours with warm water (1/4 th Cup) along with sour curd and leave it for 4-5 hours,The batter should be semi solid and sag down when you take it in your hand




After half an hour, we should beat the battter well atleast for 5-10 minutes so that the batter is nicely aerated.
Add Soda and Salt before frying,kneed it well for atleast 10 minutes rest it for another 10 minutes
Heat the oil in the pan and test if the oil is ready for frying the bondas. Take small balls of dough and gently drop it in the oil

Take out the Bonda once they are partially fried with half white outer texture,after 5 minutes drop the semi fried bondas into pan again ,now hust fry for 2-3 minutes till we get golden colour outer texture




Fry the bondas till it becomes crisp (outer skin) in medium flame on both the sides




Remove the fried bondas and place it in a plate having a tissue paper to drain the excess oil




The delicious Mysore bonda is ready to serve

Best Side dish is Coconut Chutney or Ginger Chutney
CRESCENT PIZZA POCKETS