VEG-MANCHURIAN INDO -CHINESE SNACK DISH
Vegetable Manchurian

is an popular Indo-Chinese

recipe

which most of the kids do like along with a bowl or fried rice or noodles,Dry Manchurian can be Lunch Box dish as well as Snack





MAIN INGREDIENTS


2 cups Grated Cabbage
2 cups Grated Carrots
1 Chopped Spring Onion
2 Chopped Green Chilies
3-4 Crushed Garlic Flakes
2 tbsp Corn Starch or Flour
Oil for deep frying
1 tbsp Soya Sauce
Salt to taste
1 tsp Pepper Powder
1 tsp Sugar
A pinch of ajinomoto
2 tbsp oil
METHOD
Mix grated cabbage and carrots and squeeze the water out from them.
Now in a bowl take the squeezed cabbage and carrots and mix 1 tbsp. corn starch and add few chopped chilies and little salt to it.
Make small balls (like koftas) of the mixture .
Heat the oil in a kadhai / wok and deep fry the balls till golden brown, drain and keep aside.
PREPARATION OF SAUCE/GRAVY
Now in a separate pan heat 2 tbsp oil.
Sauté garlic, green chilies and spring onions.
Add water, salt, pepper powder, ajinomoto, sugar and soya sauce. Bring it to a boil.
Mix 1 tbsp corn four with half of a cup of cold water and stir into it. Gently add the fried balls to the gravy.
Cook the vegetable
Manchurian
for 3-4 minutes and serve hot garnished with chopped coriander
***************************************************************
CHINESE VEGETABLE FRIED RICE RECIPE
Ingredients for easy fried rice:
2 cups Rice
3 tbsp Oil
100 gms Beans Finely Chopped
2 Carrot Finely Chopped
1 Onion Sliced
100 gms Cabbage Finely Chopped
2 Spring Onions Finely Chopped
2-3 Green Chilies cut lenghtwise
1 tsp Ginger Chopped Finely
1 tsp Garlic Finely Chopped
2 tbsp Soya Sauce
Salt to taste
1 tea spoon ajinamoto(MSG) Optional
1/2 table spoon red chilli powder
1/2 tea spoon white pepper powder or black pepper powder
1/2 tea spoon ginger garlic paste
Method
Pick, wash and soak the rice in enough water for 10-15 minutes and drain.
Boil water, add rice and little salt and 2 tea spoons of edible oil /ghee
Cook uncovered on low heat till rice is tender.
Take care not to overcook the rice. Each grain of rice should be separate.
When rice is done, drain and add some cold water and drain again using a large seive and set aside.
(Please see the recipe for rice cooking in http://pakashalaindiankitchen.blogspot.in/2015/04/rice-cooking-without-pressure-cooker.html
Heat oil in a kadhai / large pan and ginger and garlic paste stir fry all the chopped vegetables.
Cook for 3-4 minutes on very high flame
Take care that vegetables are not overdone, they should be crisp.
Mix salt and pepper,ajinamoto red chilli powder to vegetables.
Keep stirring
Add the cooked rice and mix well.
Now mix the soya sauce to it.(you can add tamaoto sauce ketchup if you like- optional)
Finally add cut spring onions
Cook the chinese fried rice for 2-3 minutes and serve hot.
Note :
You can use left over rice also for this recipe,re shape the left over rice into break fast or lunch box dish :-)
****************************************************************
VEG SOFT NOODLES - SCHEZWAN NOODLES

Orginally Schezwan hakka noodles are made in schezwan sauce which has szechuan peppercorns. But in this indian style schezwan hakka noodles we will use dried red chillies. You can make this schezwan sauce well in advance and store in refrigerator for 1 month too.

Serves : 2
Total time : 45 mins
Main Ingredients:

1 packet hakka veg noodles (150 gms) (Chinese noodles)

1 cup cabbage

1 large carrot

1/2 cup capsicum

2 Green part spring onions

5 French beans
1 tsp ajinomoto
1 tsp garlic paste

1 tsp Soy Sauce

4 tbsp oil

Salt to taste
Ingradients for making Schezwan Sauce

10 Dried Whole Red Chillies

1 tblsp Seasame Oil or Any edible Oil

1 tsp sugar

3 tblsp Vinegar

1 tblsp finely chopped Garlic

1 tsp salt

Schezwan Noodles
Method to make schezwan noodles indian style:
Preparations
1) Making of schezwan sauce

First prepare the sauce. Soak the dry red chillies for 6 – 7 hrs. Remove the water. In a blender make a fine paste of the soaked red chillies and garlic. You may use 1 tblsp of water to make a smooth paste. Now heat the sesame oil in a pan to the smoking point and then add the chilly garlic paste, vinegar, sugar and salt. Allow it to cool.
2) Making of Noodles

For boiling the noodles take 8 cups of water and 1 tsp of oil in a large pan and boil it. When it starts boiling, add noodles in it and boil them for 2 minutes. Switch off the gas and strain the water through a strainer.

Wash it with cold water for 3 – 4 times and immediately strain it. Washing the noodles with cold water keeps the noodles from sticking together.

Now pour 1 tsp oil on the noodles and with hands mix well. Ensure all the noodles are smeared with oil. Keep it in a strainer for 10 minutes so that the water drains off from the noodles completely.
Main cooking

Chop all the vegetables – carrot, cabbage, french beans, spring onions in thin strips or juliennes.
Heat oil in a frying pan on a high flame. Add garlic paste to it. Cook it for 1 minute then add vegetables and stir fry them.

Do not overcook. They should remain crunchy.

Now add 2 -3 tblsp of already prepared schezwan sauce.


Add noodles, salt and ajinomoto. Mix well.

Stir for 2-3 minutes. Garnish it with chopped green spring onions.

Serve hot.
Note:

If you feel the schezwan sauce is too hot you can add 1 tblsp of tomato sauce to it.

Alternatively ,you can use schezwan sauce that is avaialble in market

****************************************************************
Hot and sour chinese soup




Main Ingredients:
2 tbsp Chili Sauce
11/2 tbsp Corn Flour / Corn Starch
1 tbsp Soya Sauce
2 tbsp Vinegar
2 tbsp Capsicum Chopped
2 tbsp Spring Onions Chopped 2 tbsp Tomato Sauce
2 tbsp Carrots Chopped
1/4 cup Chopped Cabbage
1 tsp Black Pepper Powder
1/2 tsp Sugar
A pinch ajinomoto
Salt to taste
4 cups Water
Method :
Mix 4 cups of water, chili sauce, soya sauce, vinegar, sugar, salt, pepper powder and ajinomoto and bring to boil.

Now add all the chopped vegetables except paneer .

Cook for a minute on a medium heat. Dissolve corn starch in 1/2 cup water and add to the soup stirring constantly till it becomes thick.

Cook for a minute, add paneer slices. Serve hot .

Note: Soup should be prepared just before consuming and should be served fresh, else it will lose the taste.
**************************************************************
EGG FRIED RICE - INDIAN WAY
Egg fried rice is a great way to use up leftover rice and vegetables. Learn how to make egg fried rice Indian style.
Serves : 2
Cooking time : 45 mins
Main Ingredients:
3 cups cooked rice
3 eggs (beaten well)
1 medium onion (finely chopped)
2 cup finely peas,chopped carrot and beans
2 tsp ginger paste
4 garlic flakes (grounded)
3 green chilies (finely chopped)
2 tsp soy sauce
1/2 tsp turmeric powder
1 tsp red chili powder
1/2 tsp garam masala
2 tbsp oil
1 tbsp chopped coriander leaves
egg fried rice
Method to make egg fried rice Indian style:
You need boiled rice which has been cooked earlier and has cooled down.
Heat oil in a pan add onions to it fry till it is transparent.
Add ginger–garlic paste and green chilies, stir fry for a minute.
Add turmeric powder, red chili powder and mix well.
Add the beaten eggs and stir it continuously till it is scrambled properly.
Now add the finely chopped vegetables and stir it for a minute more. Make sure that the vegetables retain their crunchiness.
Add salt, garam masala and soy sauce and the cooked rice and mix it well.
Cover the pan with a lit and let it cook for 2 - 3 minutes.
Garnish with coriander leaves. Serve hot with choice of gravy.
**************************************************************
CHINESE CHILI CHICKEN RECIPE
Main Ingredients :
500 -600 gms Boneless Chicken
2 tbsp Soya Sauce
1 Egg
2 tbsp Corn Flour/Corn Starch
5-6 Chopped Green Chilies
2 Green Onion Chopped
1 tsp Garlic Paste
Salt to taste
1/2 tsp White Pepper Powder
1 tsp Sugar
A pinch of ajinomoto
2 cups chicken Broth/ Water
1 tbsp Oil
Oil to fry
Preparation:
Cut the boneless chicken pieces into1 " cubes.
Take 1tbsp. Soya sauce, 1tbsp. corn flour, salt, egg in a bowl and marinate chicken pieces in the the mixture for about 10-15 minutes.
Heat oil and deep fry the marinated chicken pieces till golden brown.
Now in a separate wok / kadhai heat 1 tbsp. oil and add garlic paste and green chilies and sauté for few seconds.
Add 2 cups of chicken broth or water. Bring to boil and add sugar, pepper powder, salt , ajinomoto and remaining Soya sauce.
Add fried chicken pieces to it and cook for few minutes.
Dissolve the remaining corn flour in 1/2 cup water and add to the curry stirring constantly to avoid lumps.
Cook for 2-3 minutes.
Serve chinese chili chicken hot garnished with chopped green onion tops.
Chinese chili chicken goes well with steamed / boiled rice.
*************************************************************
VEGETABLE CHOWMEIN RECIPE
Main Ingredients:
1 Packet Chinese Noodles
1 Onion Sliced
1 Capsicum Sliced
1 Cabbage Shredded
1 Carrot Sliced
1/2 cup Beans Chopped
2 tbsp Soya Sauce
1 tbsp Vinegar
1 tbsp Chili Sauce
Salt to taste
1/4 tsp Pepper Powder
2 tbsp Oil
Preparation :
Boil Noodles in enough water.
Take care do not overcook.
Strain Noodles through cold water 2-3 times and drain water and set aside, add few drops of oil to the
noodles to avoid sticking.
Heat oil in a wok and add sliced onions and stir fry for 20-30 seconds, add all other vegetables and
stir fry for 2 minutes.
Add salt and pepper and mix well. Now add boiled noodles and mix well (take care that noodles don't
break) .
Add vinegar, chili sauce and soya sauce and stir fry for a minute.
Serve the vegetable chowmein hot.
Note : According to taste vinegar, soya sauce and chili sauce can be increased or decreased.
**************************************************************
Chilli Panner
Main Ingradients
3/4 cup paneer (cottage cheese) , cut into 12 mm.
( 1/2") thick strips
oil for deep-frying
For The Batter
1/4 cup cornflour
1/4 cup plain flour (maida)
1 tsp soy sauce
pinch of baking powder
salt to taste
1/2 spoon gingerpaste(optional)
1 tspoon chopped garlic(optional)
Other Ingredients
1 tsp grated ginger (adrak)
2 tsp garlic (lehsun) , chopped
2 tsp chopped celery
1/4 cup chopped spring onions
2 to 3 green chillies , cut into 25 mm. (1") pieces
1/4 cup capsicum , sliced
1 tsp soy sauce
1 tsp sugar
1 tbsp cornflour mixed with 3 tablespoons water
1 tsp oil
salt to taste
For The Garnish
1/2 cup spring onion greens , chopped
Method
Combine all the ingredients for the batter in a bowl and make a smooth batter by adding approximately ¼ cup of water.
Coat the paneer pieces with the batter
deep fry in hot oil over a high flame till the paneer is golden brown.
Drain on absorbent paper and keep aside.
How to proceed
Heat the oil and add the ginger, garlic, celery, spring onion whites and green chillies and sauté over a high flame for 1 to 2 minutes.
Add the capsicum and sauté for a few more seconds.
Add the soya sauce, sugar, cornflour paste and salt and allow it to come to a boil.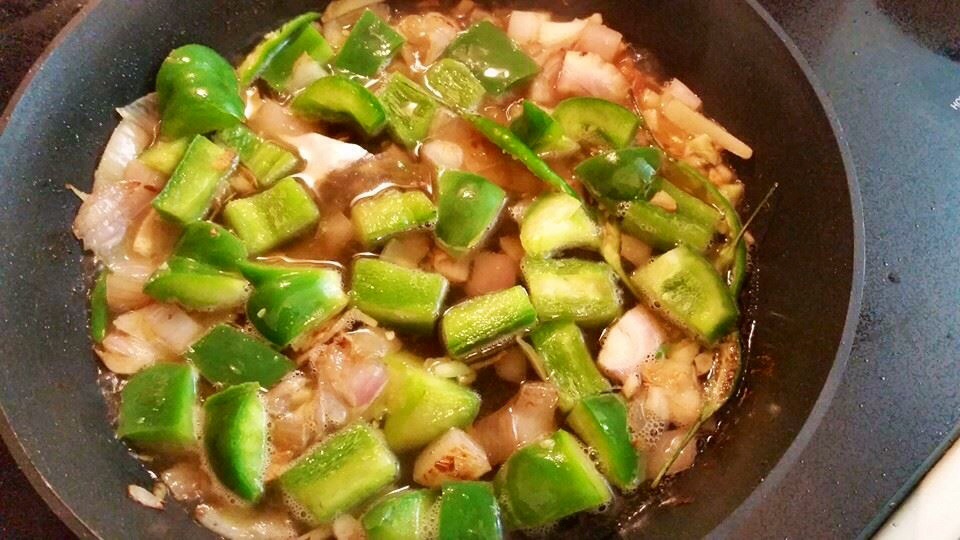 Toss in the fried paneer and mix well.
Serve immediately, garnished with the spring onion greens
************************************************************