The Non-Vegetarian side of Indian cuisine comprises of many juicy, tender delicacies made with eggs, mutton, chicken, fish etc. There is a great variety of meat, poultry and fish dishes in Indian Cuisine, here we have made an effort to present most of the non-vegetarian dishes served as snacks, accompaniments and main dishes like tandoori tikkas, kababs, roshan goshts, butter chicken, biryani and much more.

Chetti nad chicken roast



This chicken is a very popular dish in southern part of Indian subcontinent.locally this is called as chettinad chicken roast.goes well as snack or with plain rice and Indian flat bread(Chapati)
simple dish,you don't need to spend lot of time for this dish

Main ingredients


1 whole chicken cut into eight -10 pieces

For paste

6 dried red chilies,broken(soaked in the water for about 15 minutes)

1 inch ginger piece

5 garlic cloves

1 green chili

2 medium onions roughly chopped

15 curry leaves

1/2 tbsp turmeric powder

1/4 th T spoon pepper cons (kali mirch)

3 Cloves

2 tbsp rice flour

salt to taste

For marination

1 tbsp lemon juice



For frying

2 tbsp edible oil - shallow fry
Method

1)Wash thee chicken throughly,make into 8-10 pices,Make slits randomly

2)Add all the ingradients mentioned above for paste in a blender/mixer (soaked dry chillies,ginger,garlic flakes,green chilli,onion,curry leaves,turmeric powder,Pepper cons,cloves

3.Add Rice flour to the paste

4.Apply the paste to all chicken pieces ,it should coat the chicken pieces completely

5.Now add Lemon juice for the chicken pieces bowl

6.marinate the coated chicken for 3-4 hours in refrigerator

7.Now place wok/kadai on medium flame

8.Add edible oil(Shallow fry level oil)

9.Add Chicken pieces to the wok slowly,each piece should not touch another piece,keep some distance

10.Fry for 4-5 minutes,place the lid to close.

11.turn to another side slowly.place the lid

once done,remove from the kadai and garnish with onion rings and fried vertically slit green chilies and serve hot

Note :

those who wants deep fry ,they can add more oil and more coating and do this dish.
You can also prepare this dish with whole or half cut chicken applying same marination on barbecue or in oven(for that you have to coat the chicken with edible oil sufficiently.


****************************************************************
SIMPLE FISH FRY
Main Ingredients

1)Fish prpreferably Pomfret fish or small fish (bangda) or tank fish
2.Turmeric 1/2 t spoon
3.rice flour 1/2 table spoon
4.ginger garlic paste 2 t spoons
5.chili powder 1-2 t spoons or as per your taste
6.salt to taste
7.fish masala 1 t spoon
8.coriander powder 1 t spoon
9.cumin powder 1 /2 t spoon
10.Lemon juice 2-3 T spoons
11.edible oil for shallow fry
Method


Clean fish and wash it twice to thrice. remove bones ,Set aside.

In a wide mixing bowl, add red chili, turmeric powder, coriander powder, lime juice and required salt.1/2 table spoon corn flour,Sprinkle a little water to make a paste-like consistency.

Then add the fish and mix well.

Coat the masala on all sides of the fish and marinate for at least 30 mins.


Heat oil in a pan /skillet/or dosa tawa and fry the fish until the fish turns Dark
Serve Hot with topping of onion ring ,Tomoato wedges and Mint leaves
*********************************************************
Egg Curry
Boiled Eggs cooked in tamarind and onion gravy is mouth watering dish.Best side dish with Indian Flat bread(Chapati,Pulka,Parantha,Roomali roti) and steamed plain white rice


Main Ingredients
1 tsp chilli Powder
3 piece chopped
chili
3 number chopped onion
1 tbsp coriander powder
1 tsp cumin
1 tsp cumin powder
3 springs curry leaves
10 number eggs
1 tsp fenugreek leaves (kasuri methi)
1 tbsp ginger garlic paste
1 tsp mustard seeds
3 tbsp oil
1 to taste salt
100 ml tamarind juice
1 pinch turmeric
Method
• Heat oil in a vessel and mustard seeds and let them splutter. Now add cumin and add onions ,curry leaves and fry Add chopped onions and green chilies and fry till they turn light brown.
• add ginger garlic paste
• Now add chili powder, turmeric powder, coriander powder and cumin powder, mix well and saute for 2 minutes
• Add tamarind juice and 2 cups of water and bring to a boil. Add salt and sugar and reduce heat and let it simmer for 10 minutes.
Add Kasuri methi leaves crushed and powdered
Add the boiled and fried eggs and let it cook in the gravy for 3 minutes or till you get the required gravy consistency.
(ideally fry the boiled eggs in oil and little turmeric and Red Chilli powder and salt,this will keep egg intact)
• Garnish with chopped coriander leaves.Mint leaves Serve this hot steamed rice or Chapatis (Indian Flat Bread)
Note : For bright red color curry add chili powder immediately when the oil gets hot first ingredient after edible oil in the frying pan)
Note : Those who donot like tamarind juice may use tomato pure in place of tamarind juice
****************************************************************
Pickle styled Chicken curry - Achaari murg
Spicy Chicken cooked in ingredients of pickle, Tangy in taste,popular chicken dish of India,Easy andsimple to make dish
Main Ingradients
1 kg chicken pieces (any pieces of your choice) skin removed(Preferably hard chicken)
1 tsp fenu greek seeds (Methi seeds)
1 tsp mustard seeds (rai )
1 tsp aniseed/fennel seeds
1 tsp cumin seeds(Zeera Seeds)
1 tsp onion seeds(kalaonji)
3 Dry red chilies
1 tsp red chili powder
1 tsp turmeric powder
6 green
chilies
2 large onions sliced thin
2 tsps garlic paste
1 tsp ginger paste
1 cup yogurt
Juice of 1 lime/lemon
2 medium sized Tomatos (chopped)
Salt to taste
3 tbsps any vegetable edible oil
Method
Mix the onion, fennel, cumin, mustard and fenugreek seeds, red chilli powder, turmeric powder and salt together in a bowl. Take out about 3 tsps in another small bowl and mix with the lime juice.
Wash, pat dry and slit the green chilies and remove the seeds. Fill the chilies with the spice and lime juice mix and keep aside.
In a pan heat the oil and add the remaining spice mix. Allow to splutter and then add the onions and fry till golden.Add chopped
tomatoes
Add the chicken and fry till the curry releases oil .
Add the ginger and garlic pastes and fry for a minute.
Whisk the yogurt to make it smooth and add it to the chicken. Stir well.
Add salt to taste, stir well. Put the stuffed green chilies on top of the chicken and cover the dish.
Cook till the
chicken is done.




****************************************************************
TANDOORI CHICKEN MASALA
Main Ingredients:
For First Marinade:
Whole Chicken
2 tbsp. Degi Mirch powder
1 tbsp. Lemon Juice
1 tbsp. Oil
1 tsp Ginger
1 tsp. Garlic paste
Salt to taste
For Tandoori Masala
Second Marinade:
1/2 cup Yogurt (Curd) Hung
2 tbsps. Degi Mirch Powder
1 tbsp. Kasoori Methi
1 tsp Garam Masala
1 tsp Roasted Cumin powder
1 1/2 tsp Coriander powder
Few drops of Red or Orange color
Salt to taste
Melted butter for Basting
1 tbsp. Corn Flour for dusting
Method
First Step:
Pat dry the Chicken with a towel, make deep cuts on the chicken breast and thighs. Mix degi mirch,
lemon juice, oil, ginger garlic paste and salt, rub this masala on the chicken evenly outside and
inside. Leave chicken in this marinade for 30 minutes or little more.
Second Step:
Mix everything from the second marinade and put this on chicken all over, inside every cut too, leave
this in your refrigerator for at least 18 hours, 24 hours are more desirable.
After 24 hours take the chicken out of the refrigerator, at least one hour before roasting it in the
oven.
Drizzle melted butter/oil over chicken
Take Corn flour in a sieve and, dust this all over the chicken on the both sides.
Put the Chicken on a wired rack and put a tray underneath the rack to collect drippings from the
chicken.
Set the oven at 400 F/200 C
Roast the chicken for 30 Minutes on one side then turn and bake for 25 minutes, again turn and bake for
20 minutes, basting with the butter every time you take the chicken out.
Serve roasted chicken with lemon and, Onion wedges sprinkled with chat masala.
*******************************************************************************
AMBADA MUTTON CURRY -

GONGURA MAMSAM
is a
Sour leafy vegetable with
mutton
- Tasty,sour and hot
curry
. A specialty of southern Indian state Andhra /Telangana cuisine
Main ingredients
For pre boiling the Mutton
1/2 kg lamb meat, cleaned and cut into pieces
1/2 tsp turmeric powder
2 Tsp Coriander powder
1 tsp cumin powder
Salt to taste
10 cloves of garlic
1/2 inch piece of ginger
1 spoon red chili powder
For the curry
3 tblsp cooking oil
4 cloves (laung)
4 whole green cardamoms (hari ilaichi)
2 bay leaves
1 large cinnamon stick
200 g gongura leaves(5 small bunches)
1 large onion thinly chopped




1 stem large curry leaves


2 -3 green chili paste
Method
Boil the mutton and add chopped ginger garlic(about 2 t spoons),little turmeric,Coriander powder and cumin powder ,redchili powder with some salt in a pressure cooker.cook for 4 whistles
Make ginger garlic a paste with remaining garlic and ginger it and keep aside.
Now in a pan heat oil and add all the whole spices.
Once they start spluttering, add ,Bay leafs the ginger garlic paste, green chili paste(or vertically slit 2-3 green chilies) and then the chopped onions.
saute till it becomes pink in color and then add the gongura leaves, curry leaves and all the ground spices(coriander powder,cumin powder,red chili powder) and salt.
saute till the oil is separated from the mixture.
Now add the meat pieces and saute for five minutes so that they get well wrapped with the spices paste.
add garam masala(grounded spices powder)
Then add water for curry and boil till it thickens
Garnish with fresh coriander or mint leaves and serve with rice.
Note : vegetarians maty replace mutton with big soya chunks /chaps
****************************************************************
MOPLAH GHOSHT - KERALA MUTTON CURRY




















MAIN INGRADIENTS
1 Kg Mutton :
1 Cup Hung Yogurt.
2 Teaspoons each Ginger & Garlic Paste.
3 Teaspoons Kashmiri Mirchi Powder.
1 Teaspoon Haldi.
1 Teaspoon Yellow Chili Powder ( use normal if unavailable ).
1/2 Teaspoon Minced Green Chilies.
1/2 Teaspoon Shahi Jeera
.1 Teaspoon Ginger Juliennes
2-3 Teaspoons Desi Ghee.
3 Teaspoons Cream ( I didn't have )
4- Medium Sized Onions Sliced and Browned. I fried in Mustard oil or any edible oil
15 Mint Leaves.
3-4 Slit Green Chilies.
3 Teaspoons Minced Coriander Stems.
4-5 Tablespoons Refined Oil
100 Ml Coconut Milk (I used about 100 gm of Coconut ground in a paste)
.50 Grams Mixed Whole Spice.
10 Grams Curry Leaves.
2 Tablespoons Poppy Seeds
Salt to taste
Raw papaya paste - about 4 tbsp
Method
marinate mutton overnight with all the above ingradients
or about 4 hours
Then cook it on low flame for 30 min then in cooker for 2-3 whistles.
Remove the Mutton gravy from cooker after resting period of 15 minutes
Garnish with Onion Rings and serve with Chapati/Biryani rice or simply steamed Rice !!!
****************************************************************
Tangy crab Fry - Kekda Fry
Ingredients:
Crab Pieces- 1/2 Kg
Tamarind Pulp- 3 tsp( thick paste like the consistency of tomato sauce)
Salt- To taste
Red Chilli Powder- 2 tsp
Onion- 1 medium
Coriander powder- 1 tsp
cumin powder- 1/4 tsp
Ginger Garlic Paste- 1 1/2 tsp
Green chillies – 3
Egg Plants – 4(small)
METHOD :
First take Onion, Ginger Garlic Paste, Coriander Powder, cumin powder and blend it to a coarse paste.
Pour oil in a pan and add the blended onion paste, fry it for 3- 4 minutes and then add tamarind pulp with a glass of water.
Add in green chillies( slit from top to bottom on one side only), salt, red chilli powder.
Let this come to a boil and drop the cleaned crab pieces(crab should be cleaned thoroughly, just tap on the legs to get it cracked a bit so that it absorbs all the spices).
add enough water for the pieces to cook well.
Drop the Egg Plants too at this time( should be cut from top to bottom keeping the stem intact).
Add coriander leaves and cook this covering the lid. If the curry is cooked with coriander leaves it gives a nice flavor.
Check the taste and adjust tamarind pulp, salt and red chilli powder as per your taste. This curry will need more salt and red chilli powder as we are adding tamarind pulp which is sour.
Cook this until you get the desired consistency.( it is always preferable to switch off the flame a bit before you get the desired consistency because gravy gets thickened when it cools down a bit, so that you get your desired consistency or else gravy may get too thick).
Finally Garnish with coriander leaves.
Tip:
When you check the taste you may feel everything is perfect but when you eat with rice after a while salt or spice may not be enough, so when you check the taste take little rice and mix the curry in it and taste it. When you are satisfied switch off the flame or else adjust what you feel is not enough and cook it.
****************************************************************
JUICY JAMBO PRAWN FRY - JINGA FRY
Sauteed prawns (Prawns Fry)
Main Ingradients
Prawns 10 (medium size tail on)
Chili powder 1 tsp
Pepper powder 1/4 tsp
Turmeric powder 1/4 tsp
Cumin powder 1/4 tsp
Curry leaf 1 sprig
Coconut oil 1 tsp
Method
Clean the prawns, wash well ,dry in kitchen towel
Marinate the prawn in the given ingredients heat a heavy pan pour oil
,put the prawn mixture and saute for 3 to 4 minute
Serve immediately
****************************************************************
Hyderabadi Kachi gosht Dum biryani
The
Kachchi
biryani is prepared with
meat
marinated with spices overnight and then soaked in
yogurt
before cooking. The gosht (meat) is sandwiched between layers of fragrant long-grained basmati rice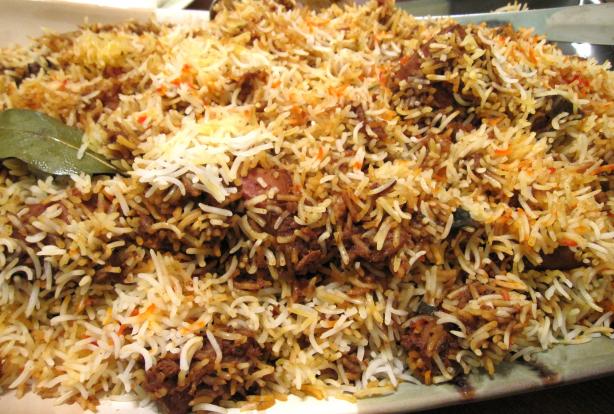 Main Ingredients
Serves: 6-8
Total Marinating time: 3 1/2 hrs
Total 'Dum/slow cooking' time: Around 1 hr and 10 mins
Any Edible oil – 6 tbsp
Ghee – 2 tbsp
Lean spring Lamb meat, with bone, preferably leg, cut into 5 cm cubes – 800 grams, excess fat trimmed, washed, drained and pat dried
for the tenderizing mix:
Raw Unripe Green Papaya skin – grated or made into a paste (optional-you can use meat tenderizer available in market)
garlic-ginger paste – 3 tbsp
Salt – 1 tsp
Turmeric powder – 1/4 tsp
for the marinade:
Thick Yogurt – 1/2 cup
Yellow onions – 3, medium sized, finely sliced
Fresh Mint leaves – 1 cup, loosely packed, roughly chopped
Fresh Cilantro – 1 cup, loosely packed, roughly chopped
Small green chillies – 4-6, slit lengthwise
Red chilli powder – 2 tsp
Salt – 1 tsp
Garam masala powder -1 tsp
Cardamom powder – 1/8 tsp
Coriander powder – 1 tsp
Lemon juice – 2 tbsp
for the rice:
Long Grained Fragrant Basmati Rice – 800 grams (old biryani rice)
Shah Zeera – 1/2 tbsp
Cardamom – 4
Cloves – 4
Cinnamon stick – one 2″ stick
Dagad Phool
– 1 tbsp
Dried bay leaf – 2
Salt – 3-4 tsp
for the Biryani:(assembing layers)
Saffron threads – 2 big pinch
Warmed milk – 1/2 cup
Cilantro/coriander leaves – 1/2 cup, loosely packed and roughly chopped
Mint leaves – 1/2 cup, loosely packed and roughly chopped
Lemon juice – 2 tbsp
additional ingredients:
Dough made with maida/all-purpose flour (flour+water) to seal the vessel(optional)
1. In a large
thick walled
oven-proof vessel/saucepan (if you have a thick walled
Degchi(big sauce pan)
, please use it) (also please choose a vessel that is large enough so that there is about 1/4 amount of free headspace left after the whole biryani is assembled for the steam to collect and aid in cooking), add the tenderizing mix and the marinade and mix well. Wear gloves, add the meat and thoroughly mix the meat well. Using a knife, gash/poke the meat in the marinade. Mix once and again gash/poke it with a knife and then mix. Cover and keep aside.
2. In a thick bottomed frying pan, pour in oil and ghee. Once the oil is hot add the sliced onions. Deep fry them until evenly golden brown in color, keep a close eye and make sure you do not burn them. Once done, remove the pan from heat. Using a slotted spoon, remove half of the fried onions into a platter and spread them out. In a while, they will crisp up as they cool. The crisped fried onions will be later used for garnish. Reserve the remaining fried onions and oil in the same pan and let cool. These will be added to the marinade.
3. In a small bowl, add the warmed milk and soak the saffron threads in it.
4. Add the cooled fried onions and about 4 tbsp of the oil from the pan to the marinating meat and thoroughly mix using a spoon. Cover and keep it back in the refrigerator for 3-4 hrs.
5. Wash the rice in 3 changes of water and soak it in surplus fresh cool water for 30 minutes.
6. In a large saucepan, pour in surplus cool water and add the
shahzera
, cardamom, cloves, dried bay leaf,
dagad phool
and salt
(do not forget adding salt)
. Cover and bring it to a boil on high. Once the water is boiling, drain the soaking rice and add it to the boiling water and stir. Cook for just 2 minutes and drain the rice immediately.
7. Spread the drained half cooked rice over the marinating meat. Spread evenly
the chopped cilantro, mint, saffron soaking in milk, remaining crisped fried onions and lemon juice. Cover the vessel properly with aluminium foil or a tight lid (with vents closed with dough if any)
so that no steam can escape
. You can also apply dough to seal the lid which is the traditional method.
8. Cook the Biryani on high for 5 minutes. You will notice that a good amount of steam has built up, which is called as the
pehli bhaap
, meaning first steam.. Then take a flat dosa tawa and keep it below the vessel (so that the bottom does not burn and it slow cooks evenly) and lower the heat to simmer and let it slow cook for 30 minutes, until done. Remove from heat, and have a quick look to see if the rice has cooked and stick a fork through to test the meat (be careful as there will a lot of steam, do not burn yourselves). If it needs to cook a little longer, cover again tightly with the lid/foil again and cook for a further 10-15 minutes. when it is done and wait for 10 mins before mixing the rice with meat, and serve on a large serving platter.
For a special touch, garnish with more fried onions, cilantro and mint leaves, toasted/fried almonds or cashewnuts or pinenuts or raisins and quartered hard boiled eggs.
*********************************************************************************
Chicken Kofta Curry with gravy
This is very popular dish in Northern India Pakistan (Baluchistan) Iran and Turkey
Main Ingradients
For Kofta (C
hicken Dumplings - Meat Balls )
1 K.G Minced Chicken (Chicken kheema)
1 tsp Garlic Ginger paste
1/2 tsp Red Chilli powder
2 tbs chopped coariander leaves
1/2 table spoon corn starch
Method
For Making Chicken Kofthas
Add all the above ingredients in the minced chicken. make balls with slightly wet hands and set aside
Deep Fry them in oil in medium flame
For Gravy
Main Ingradients
Method
Add whole Grama masala (
(4 clove,4 green cardamoms,2 bay leaf,1 cinnamon stick) and fry for 1-2 minutes
Add Onion Paste ,saute for 3 minuts
Add Ginger Garlic Paste - saute for 2-3 minutes (till Rwa flavour goes way from recipe)
Add Spice Powders Such as Turmeric ,Corainder powder and cumin powder
Cook till oil separates from the onion paste mixture ,Add Red Chilli powder and Salt
Add 2 cups of Water and let it boil on medium flame,cook for atleast 5-10 minutes (till the gravy reduces to thickened solution)
Now Add Chicken dumplings(balls) and Cover with lid ,Cook in slow flame for another 5-8 minutes,do not stir as the chicken dumplings may break
Now Add Garam masala ,Chopped Corainder leaves (Cilantro/Parsely leaves)
Remove from Flame and Serve with Hot Chapathis or Steamed Rice
*********************************************************************************
Afghan Chicken Korma








Main Ingredients

•125 ml(½ cup) any edible oil
•1.5kg chicken, cut into small pieces on the bone

•1 tbsp finely chopped ginger
•1 tbsp finely chopped garlic
•1brown onion, finely chopped
•250 g(1 cup) thick Greek-style yoghurt
•2 tsp ground turmeric
•1 tsp salt
•⅓ cup Chick Peas (Chana Dal)soaked in cold water for 2-3 hours... Or overnight.
•10 dried sour plums, soaked in cold water for 1 hour
•2 tomatoes, diced
•4 green chillies, thinly sliced
•3 long fresh red chillies, thinly sliced
•Thinly sliced red onion rings, lime wedges, coriander sprigs and Afghan bread (alternatively you can use any hard bread/Tandoor roti), to serve
Method

Soaking time 3 hours or overnight for Chick Peas.

Heat the oil in a heavy-based frying pan over high heat. Cook the chicken pieces for 8 minutes, or until golden on all sides. Remove from pan and set aside.
Add the ginger and garlic to pan and stir for 1–2 minutes. Add the onion and cook for 6–7 minutes, or until golden.
Reduce the heat to low, then add the yoghurt, turmeric and salt. Stir well, bring to a gentle boil,
then Add chicken to the pan. Cover and simmer for 6–8 minutes.
Drain the Chic Peas (Chana Dal) and dried plums,
Add to the pan and simmer for another 2–3 minutes. Add the tomato and chilli and cook for 10 minutes, or until dahl is soft, sauce is thickened and oil has risen to the surface
Serve with red onion rings, lime wedges, coriander sprigs and Afghan Bread or tandoori roti .
***************************************************************
Chicken capsicum masala-
Main Ingredients:-
Chicken - 500 gms
Onions - 2 large, finely chopped
Tomatoes - 3, finely chopped
Capsicum - 1 large, chopped into cubes or strips
Ginger-garlic paste - 1 tbspn
Red chilie powder - 2 tbspn
Coriander powder - 1 tbspn
Chicken masala powder - 1 tbspn
Salt to taste
Cloves - 4 nos
Cinnamon sticks - 2 pieces
Oil - 3 tbspns
Water as required
Coriander for garnish
To marinate-
Red chilie powder - 1 tsp
Salt - 1 tspn
Method
1. Wash chicken 2-3 times. Add marination ingredients, mix well and let it sit for minimum 30-45 minutes.
2. Heat oil in a kadai. Add cloves cinnamon.
3. Add onions and saute till they turn soft. Add ginger garlic paste and cook till the raw smell gone.
4. Add tomatoes and cook till they turn mushy. Next add all the spice powders along with salt and cook for a minute.
5. Add marinated chicken pieces, cook until they start to turn color.
6. Add required amount of water and cook until chicken is completely cooked and water is almost drained.
7. Add capsicum pieces and cook for 2 minutes. By now the chicken masala should be dry(if not cook for some more time until all water is drained and chicken is cooked)
8. Remove from stove and garnish with coriander leaves.
9. Serve hot with sambar and steamed rice or Chapaties
****************************************************************
Butter chicken




Main Ingredients
•Chicken 800 grams
•Lemon juice 1 tablespoon
•Kashmiri red chilli powder 1 teaspoon
•Salt to taste
•Butter 2 tablespoons
•For marinade
•Yogurt 1 cup
•Salt to taste
•Garlic paste 1/2 teaspoon
•Garam masala powder 1/2 teaspoon
•Kashmiri red chilli powder 1 teaspoon
•Ginger paste 2 tablespoons
•Lemon juice 2 tablespoons
•Mustard oil 2 tablespoons
•FOR MAKHNI GRAVY
•Butter 50 grams
•Ginger paste 1 tablespoon
•Green chillies,chopped 4-5
•Red chilli powder 1 tablespoon
•Salt to taste
•Dry fenugreek leaves (kasuri methi) 1/2 teaspoon
•Whole garam masala 1 tablespoon
•Garlic paste 1 tablespoon
•Tomato puree 400 grams
•Garam masala powder 1/2 teaspoon
•Honey 2 tablespoons
•Cream 1 cup
Method
Make incisions with a sharp knife on breast and leg pieces of the chicken. Apply a mixture of red chilli powder, lemon juice and salt to the chicken and set aside for half an hour.
Hang yogurt in a muslin cloth for fifteen to twenty minutes to remove extra water.
Add red chilli powder, salt, ginger-garlic paste, lemon juice, garam masala powder and mustard oil.
Apply this marinade to the chicken pieces and refrigerate for three to four hours.
Put the chicken onto a skewer and cook in a moderately hot tandoor or a preheated oven (200°C) for ten to twelve minutes or until almost done. Baste it with butter and cook for another two minutes.
Remove and set aside. Heat butter in a pan.
Add green cardamoms, cloves, peppercorns and cinnamon. Sauté for two minutes,
add ginger-garlic paste and chopped green chillies. Cook for two minutes.
Add tomato puree, red chilli powder, garam masala powder, salt and one cup of water. Bring to a boil. Reduce heat and simmer for ten minutes.
Add sugar or honey and powdered kasoori methi. Add cooked tandoori chicken pieces.
Simmer for five minutes and then add fresh cream.
Serve hot with naan or parantha
****************************************************************
MUTTON /LAMB KHEEMA MATAR
Matar Keema cooked in Biryani gravy or akhani.
The biryani akhani can be used in different ways. Normally people prepare biryani gravy and have it with parathas or rice rotis.
The gravy is mild yet flavourful and the simplicity lies in it's ingredients.
Keema Matar (Biryani Akhani) Recipe:






Ingredients:
Mutton Keema - 1/2kg
Onion - 2
Tomato - 4 to 5
Ginger garlic paste - 1tspn
Fresh Green Peas - 1/2cup
Coriander leaves - handful
Mint leaves - handful
Yogurt - 6tbspn
Chilly powder - 1/2 - 3/4th tspn
Salt - according to taste
Cinnamon, clove, cardamon - 1each.
Method:
1. Heat sufficient oil in a cooker, once heated add cinnamon, clove and cardamon. Add finely chopped onion slices. Fry till light golden brown. Add ginger garlic paste. Sauté for a minute.
2. Add Keema and fry till all the water is reduced and keema is lightly roasted. Add fine cubes of tomato. Fry till tomatoes gets soft and leaves oil on sides of cooker.
3. Now add spices, finely chopped coriander leaves and mint leaves. Add fresh green peas. Mix well. Add yogurt too.
4. Fry well for a minute or two and add 1/2 glass water, cook till the meat is tender (1 or 2 whistle).
5. Once the cooker cools down reduce the gravy to desired consistency. Garnish with finely sliced coriander leaves and lemon slices.
Serve hot.
Note :
The spices can be varied suitable to your taste buds.
***************************************************************