YELLOW TAMARIND RICE
Pulihora (Telugu:

పులిహోర

)

, or

Puliyodhara

, or

Chitrannam

is a very common preparation in

Andhra Pradesh

,

Karnataka

,

Tamil Nadu

and

Indian cuisine

. Puli means

sour taste

. Pulihora is also referred to as

sour rice

.
Additional Info about this dish
In Andhra Pradesh and Telangana it is considered as a festival food. It is given as
prasadam
in temples
Ingredients-
Rice-2 cups(cooked,grains should be separate and not mushy)
Ground nut oil/sesame or any edible oil 1 1/2 table spoons
Mustard seeds-1tsp
Udid dal-1tsp
Channa dal-1tbsp
Dried red chillies-3-4(I did not add)
Green chillies-2-3 slit
Curry leaves- 2 -3 sprigs
Peanuts-1/4 cup
Cashew Nuts 10-12


Asafoetida a pinch




Turmeric powder-1tsp +1tsp
Tamarind-1 lemon sized lump(Soaked in warm water and pulp extracted about 1/2 cup)
Salt to taste
Method
Cook the rice. The grains should be well cooked, yet separate.(add few drops of oil while cooking rice to get rice fluffy and separate grain) Spread it on a plate.Add Turmeric Powder,Little oil and Curry leaves and keep them aside (please see that rice should not be mushy in nature)
for rice preparation please see recipe at Making of Rice
(
https://www.blogger.com/blogger.g?blogID=2417149580196750112#editor/target=post;postID=778306014093840372)
Heat oil in pan.
Add mustard seeds,urad dal(minapa pappu) and channa (Senga Pappu)dal. When it crackles, add red chilies,peanut and asafoetida (Hing/Inguva)and turmeric powder.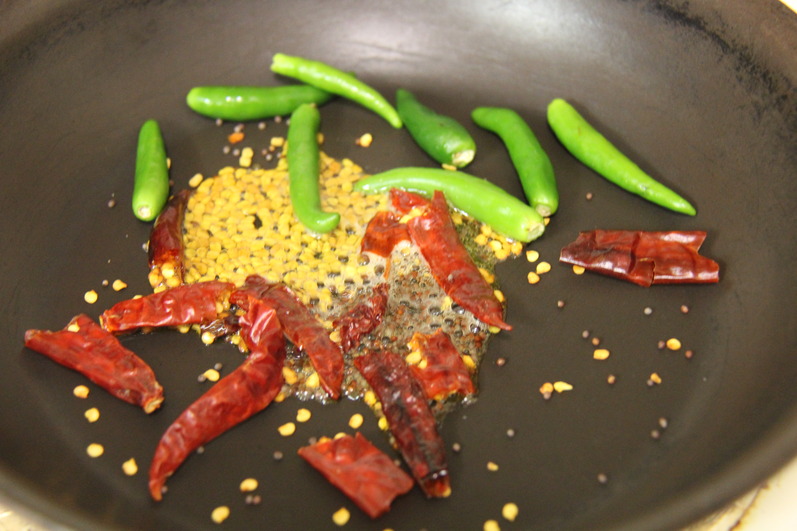 Add Cashew Nuts,Curry leaves and
Roast the peanuts for a minute.
Add Green Chilies
slit vertically.
Add the tamarind pulp.
Allow this to boil for 10-15 minutes.
It should be thick flowing paste.
Remove from flame.
Add turmeric powder,curry leaves and little salt to the spread rice and mix well.
( turmeric powder,salt and curry leaves to
can be added
the rice after cooking )
Add the pulihora paste to the rice.
Mix well and gently.
Note
Some may add Rai powder (mustrad powder/Ava pindi) it is purely as per their taste,but to be added at the last stage
_________________________________________________________________________________
I think you have enjoyed learning another dish from Your Recipe Kitchen
Please offer your suggestions and feed back to us through Chat now (blue chat box at extreme down right side) which enables me to improve my blog
Please suggest share and suggest my blog to your friends so that others too benefit from my blog
Regards
Chef Mohan