Main Ingredients
2 1/2 cups full fat milk
1/2 cup sugar
1 tbsp cornflour
1/2 cup fresh cream
1 tsp vanilla essence
Method
Combine the cornflour and ¼ cup of milk in a small bowl, mix well and keep aside.
Heat the remaining 2¼ cups of milk in a deep non-stick pan, and allow it to boil on a medium flame for 7 minutes, while stirring occasionally.
Add the sugar and the cornflour-milk mixture, mix well and cook on a medium flame for 4 to 5 minutes,
while stirring continuously. Cool completely.
Once cooled, add the fresh cream and vanilla essence and mix well.
Pour the mixture into a shallow aluminium container. Cover with an aluminium foil
freeze for 6 hours or till semi-set.
Pour the mixture into a mixer and blend till smooth.
Transfer the mixture back into the same aluminium shallow container. Cover with an aluminium foil andfreeze for approx. 10 hours or till set.
Scoop and serve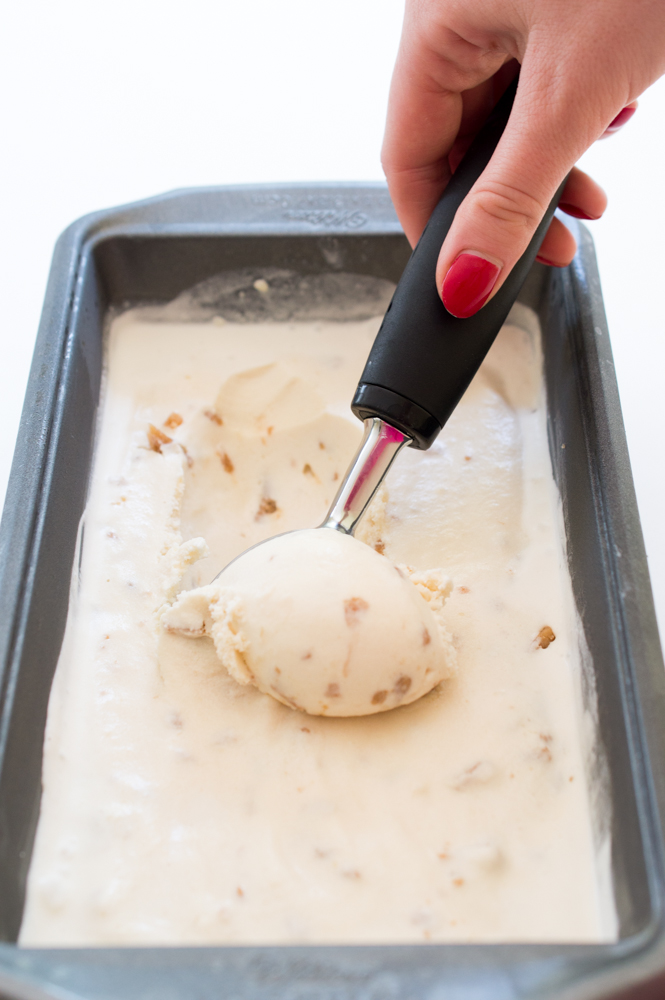 Note : You may find crystals in Icecream in this method
close the tray containing ice cream solution for freezing should be tightly sealed (it should be Air tight pack such as aluminium foil or any sealing sheet)




Method 2
500 mls (2.5 cups) Full Fat Milk
1 Tablespoon Cornstarch (cornflour)
1.5 Tablespoons G.M.S (Glycerol monostearate) Available in bakery items stores
⅕ teaspoon C.M.C (Carboxy methyl cellulose) Available in bakery items stores
2 Tablespoons Milk Powder
¾ cup Regular Sugar (adjust to suit your taste for sweetness)
1 teaspoon Liquid Glucose (optional - I did not use)
2 teaspoons Vanilla Extract / Essence
1 cup is around 200 mls / 200 grams
.
METHOD
Bring milk to a boil and reserve about ¼ cup of the milk. Continue to boil the remaining milk mixture while stirring it.
You should look for the mixture to reduce a bit which will help the ice cream to be creamier.
Add cornflour, milk powder, GMS and CMC to the reserved ¼ cup of mill and mix well. Set aside.
Add sugar to the milk and mix well. Continue to boil for another 8-10 minutes. Taste and adjust for sweetness, if required.
Lower the heat to medium flame. Slowly add the cornflour mixture to the milk and stir constantly. Keep stirring and you'll start to see that the mixture thickens.
Keep cooking and stirring till you have a thick sauce like consistency.
When you dip a wooden spoon into the mixture and it coats the back of the spoon, the mixture is done. You can switch off the flame.
This is a CRUCIAL step - Pass the mixture through a sieve / filter to catch any lumps. You should have a smooth, lump-free custard.
This will give a smooth texture to the ice cream.
As the mixture cools, keep stirring constantly. This prevents a skin from forming on top.
Once the mixture is cool, add the vanilla extract / essence and mix well.
Pour into a shallow container (plastic or aluminum), close with a lid and freeze until almost set.
It will take about 3-4 hours. Make sure the freezer is set to coldest temperature.
Take the mixture out, add the cream and whip for 3-4 minutes until the mixture has doubled in volume and the ice crystals have broken up.
Again pour into the same container and freeze until set (3-4 hours)
again remove and whip for 3-4 minutes or until you have a smooth & creamy mixture.
Set it to freeze one more time. This time, you can reduce the freezer
temperature to normal chillness and let the ice cream set for 5-6 hours.
Scoop and serve!
Notes
G.M.S (Glycerol monostearate) - GMS is a food additive used as a thickening, emulsifying, anti-caking, and preservative agent; an emulsifying agent for oils, waxes, and solvents. It is responsible for giving ice cream and whipped cream its smooth texture.
C.M.C (Carboxy methyl cellulose) - CMC is a compound used for stabilizing ice creams and is available in specialty food stores or bakeries.
Use only as much as given in the recipe. Using excessive CMC can cause ice crystals in the ice cream
You may avoid GMS and CMC but you may get crystals in Icecream