Kids lov this short and sweet recipe,takes minimum time to make with bare minimum ingradients
Main Ingredients
1/2 Tin Milkmaid/ Sweetened condensed milk
2 cups + 1/2 cup for rolling
Grated coconut
1 spoon of butter
Ghee For greasing
2 tblsp Milk powder (optional)
Method
In a non stick pan, add Sweetened condensed milk,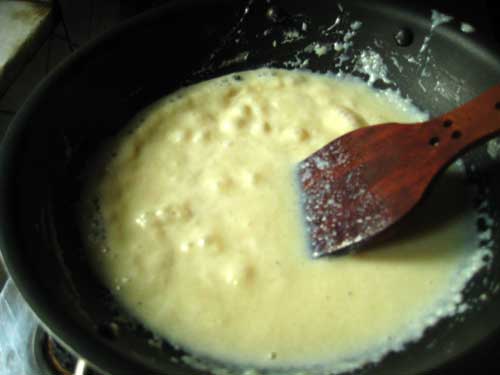 Now Add 2 cups grated coconut, milk powder,Cardamom powder
.
Keep stiring
Heat over medium flame and stir for 4 – 5 minutes or until the mixture turns non sticky and becomes a mass.Now add butter
Switch off the flame and let it become warm. In a plate place the remaining grated coconut and make
equal sized balls out of the mixture
Roll these ladoos over the grated coconut. Grease your hands
with ghee each time while rolling.
Notes
Please use semi tender desiccated coconut. If using fresh coconut, take care not to choose too young, tender coconut.
Avoid scraping the coconut too much with the brown part, as it will spoil the colour of the ladoos.
If your coconut is too moist, dry roast without changing its colour.
Make sure your keep the flame always in medium flame.
You can refrigerate the ladoos, but since coconut, consume within couple of days.
These Ladoos can be arranged in the mini muffin liners. Its perfect for serving as well as gift packing
Alternative Method
(If condesed Milk is not available )
Main Ingradients
1 and 1/2 Cups of Shredded Fresh cocnut
1 tea spoon of Cardamom powder
Method
1)Place a bowl on flame
2)Add Milk and Boil the Milk
3)Add Desicated Fresh coconut at this stage
4)Keep stiring till Desicated cocnut absorbs all the milk and turns as semi paste
5)Now add Powdered sugar and powdered Cradamom seeds (Ilachi powder)
6)Mix well,Keep stiring to avoid sticking of paste to bottom of the vessel
7)Now add butter (about 1 spoon)
8)Switch off the flame,let it cool for 2-3 minutes,
9)Grease your hands and make ladoos ,Roll them in shredded coconut powder
and Serve