CHIKEN TIKKA MASALA
Chicken tikka masala is a dish of roasted chunks of chicken in a spicy sauce. The sauce is usually creamy, spiced and orange-coloured.This is also called True National dish of England,So much popular across al regions of the world






MAIN INGRADIENTS:
Part A:
2 lbs. boneless chicken breast
1/4 cup yogurt
3 tsp minced ginger
3 tsp crushed garlic
1/4 tsp white pepper
1/4 tsp cumin powder
1/4 tsp mace
1/4 tsp nutmeg
1/4 tsp green cardamom powder
1/4 tsp chili powder
1/4 tsp turmeric
3 tbsp lemon juice
4 tbsp vegetable oil
Melted margarine (for basting) - Optional
Part B:
5 oz. tomato paste
10 oz. tomato puree
2 lbs. tomatoes, chopped
2 tsp ginger paste
2 tsp garlic paste
2 tsp green chilies
1 tbsp red chili powder
2 tsp cloves
8 green cardamoms
Salt To Taste
3 tbsp butter
2/3 cup cream
1 tsp fennel seeds (coasrely ground)
2 tsp ginger, julienned
sugar to taste few sprigs of green coriander
METHOD :
Making of Tikka
Cut the chicken breasts into 2 inches cubes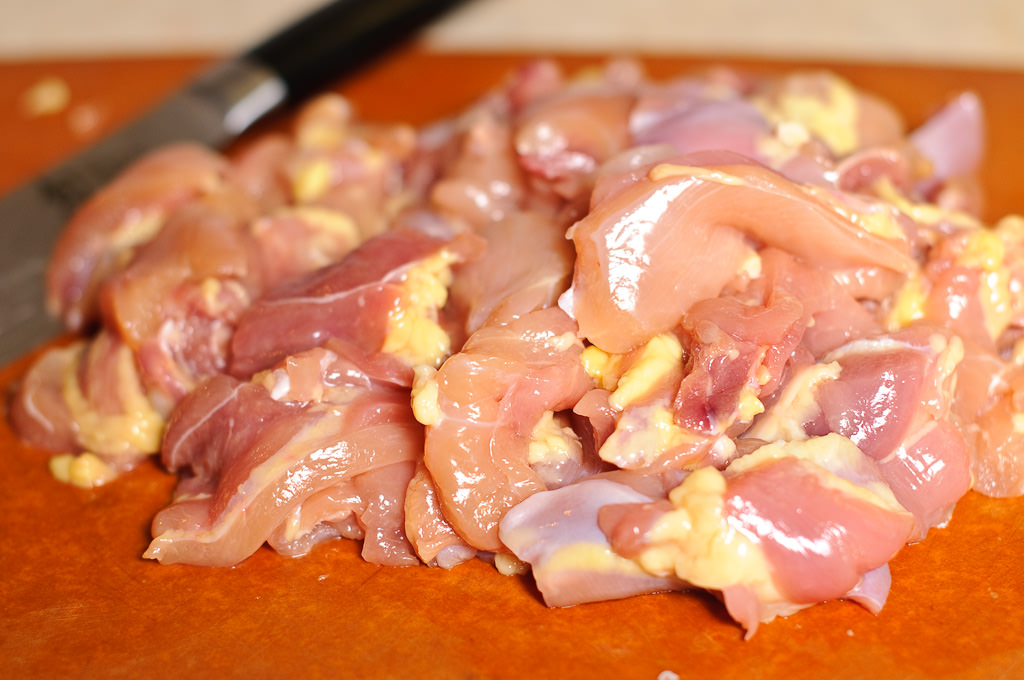 Mix all of the ingredients listed in Part A together in a large bowl.
Now Add Chicken Cubes
Add ,Turmeric powder and curd to the chicken breast and spice mix ,( cut into 2 inch cubes) Mix well so that cubes are perfectly quoted .Marinate overnight in the refrigerator.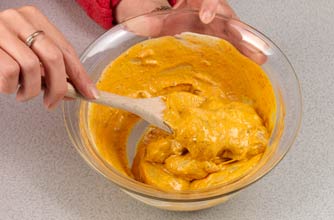 Place the chicken in a cast iron pan or greased oven tray and pop it in the oven at350 to 400 degrees Fahrenheit for 16-20 minutes. Make sure the internal temperature reads 165 degrees Fahrenheit.
or
you can use skewers for baking chicken tikka in oven Normally this dish is prepared in Traditional Tandoor in India
Once it is cooked through, remove it from the oven and set it aside.
Preparatory
Deseed and chop green chilies.


MAKING OF SAUCE
sauce with indragints mentioned in Part B.
Keep Wok/Kadhai/or any thick bottom Frying Pan on Low Flame
Add any edible oil to Pan,Add Cumin seeds,let them splutter,then
Add cosrely ground Onion Paste finely /chopped onions
Add ginger and garlic paste, green chilies, red chili powder, cloves, cardamoms, and salt. Cook over low heat until reduced to a thick sauce. When the oil is hot, add in the coriander,Ground fennel, black pepper and garam masala. Mix it all together well.
Now, you can add the tomato puree and mix it very well with all the spices. Let it simmer for about 15-20 minutes until the sauce starts reducing and the excess water has evaporated.
Make sure you are stirring occasionally, while scraping the bottom of the pot.
Add the cooked chicken pieces along with their drippings if cooked in an oven and cream. Mix everything together, and continue letting it simmer for another 10-12 minutes.
Turn off the heat, cover with a lid and let it sit for at least 10 minutes before serving it.
You want all of the spices to really infuse into the dish. After 10 minutes, taste the sauce and add any additional salt to your taste preference!
Garnish with some chopped coriander leaves/cilantro and serve with Hot Indian Flat Bread (Chapathi) or just as side dish for Steamed White Rice.
Note :
If the chicken tikka masala sauce tastes sour, add sugar to taste.