Caramel Custard is a creamy and delicious dessert made with caramelized sugar and flavouradded moulded custard,Today you are learning another sweet n tasty recipes that kids loves ..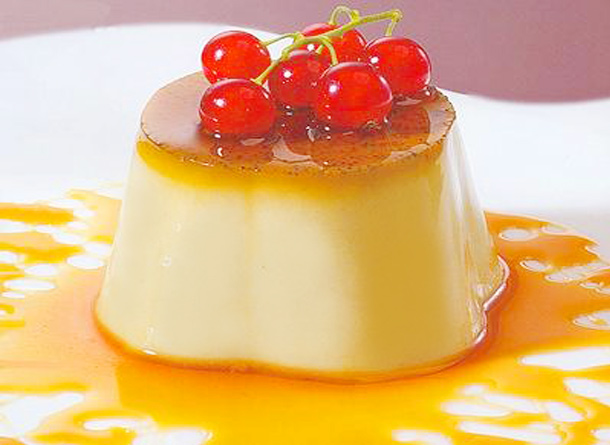 MAIN INGRADIENTS
For Making Caramel
1 tbsp Water
1/4 cup Sugar
1/2 Tea spoon of Lime juice
For Making Custard Mixture
3/4 cup Whole Milk
3/4 cup Yogurt / Curd
3/4 cup Sweetened Condensed Milk
1/2 tsp Vanilla Extract
2 tbsp Corn Flour
30 grams sugar
Method
Place sauce pan/thick bottom stainless steel vessel on stove
Add about 50 grams of sugar,Add table spoon of water and 1/4 th tea spoon of Lemon juice
Bring the mixture to a boil over medium-high heat.
Rather than stirring to dissolve the sugar,which could cause crystallization, gently swirl (move) the pan.
Once it's come to a boil, continue to cook,
occasionally wash the sides of the pan with a brush until the color starts to change
this will take about 5 minutes.
When it starts to brown in spots, swirl it occasionally( move the dish) just to even out the color,. Once the color starts to change,
watch your caramel very closely
it can go from undercooked to overcooked within a few seconds.
Check the caramel consistency and colour by putting a drop of caramel on white surfaced plate
when it reached Amber or honey kind of color ,
switch off the flame
Now Add the Caramel liquid to greased pudding mould dish
cover the complete bottom of the dish with caramel solution
Making of Mixture of Custard
Take a bowl and
Add the following ingradients
3/4 th cup of Milk,3/4 th cup of curd and 3/4 th cup of sweetned condesnsed milk or Milk Maid , 2 table spoons of corn flour
(mixed in water to make a thin batter type liquid
other wise you will get lumps in custard)
20 grams of sugar ,
other wise you will get lumps in custard)
and vanila essence, Mix well
Now pour the Custard mixture into the pudding mould bowl
Cooking the Custard in Pressure cooker
Now take an idly steamer/cooker or Pressure cooker ,
Add 2 inches level water,boil the water on medium flame.
Now place the caramel custard mould dish inside the steamer/cooker
Close the lid and cook for about 30 minutes
Switch off the flame and remove from the cooker
Allow it to cool ,
chill in the refrigerator ,
scrape the edges with the help of knife as it will be attached to the dish
Turn it up side down carefully on a serving plate
Notes :
1)Non vegetarians may add egg (milk 400 ml + vanilla essence 1/2 tsp,eggs 3 ,20 grams sugar as custard mixture,
( Rest of the process is same )
2)You can bake in oven too , but place the caramel pudding mould in water filled container(about 2 inches water to be added to container)
bake at 180 C or Mark 4(modarately hot ) , bake it for about 45 minutes