Main Ingradients
1/2 kg Paneer, cut lengthwise
For the base gravy:
1 kg ripe red tomatoes
7-8 green Cardamoms
1 sprig of Mace (Javithri in Hindi)
Salt to taste
2 tsp Red Chili powder
7 tbsp Butter
For main tadka:
2 Tbsp of Corn starch
2 tbsp Butter
1 tbsp Oil
4- 5 green chilies, chopped into Julians
1 Large piece of Ginger, chopped lengthwise
Salt to taste
1 tbsp Kasuri Methi
1 tsp Sugar
1 tsp Garam Masala (optional)
Method
Heat 1 tbsp of butter with a tsp of oil in a pan, and shallow fry Paneer cubes in it for 3-4 minutes on low flame. Keep aside (optional) alternatively you may dip in boiled water with few drops of lemon juice and strain ,keep it aside
Step 2
Heat 5 tbsp of butter in the same pan, and throw in cardamom pods in it along with the mace. Fry for a minutes and then add chopped tomatoes. Cook for around 10-12 minutes until the tomatoes get all mushy. Add salt and red chilli powder. Cook for some more time and turn off the flame.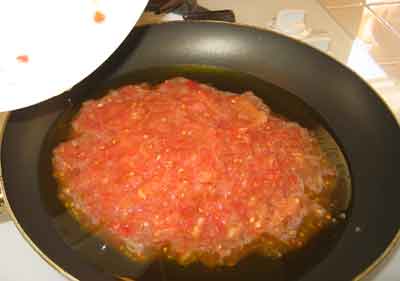 Step 3
Let it cool down a bit and then blend it in a mixer. Strain it well in a bowl, keep it aside.
Now, for the gravy, Heat 1 tbsp of oil with 2 tbsp of Butter in the pan and add green chilli julians and ginger pieces. Fry them for 5 - 6 minutes
For Gravy consistancy ,You can add 2 table spoons og Corn Starch to 1/4 th cup of Water,make butter milk consistancy corn starch solution and add to Tamoto pure gravy)
Add the paneer cubes,

cook further for like 7-8 minutes. Add Butter,
Red chilli powder ,cream and sugar and simmer further for 4-5 minutes. Turn off the flame.
Step 5
Garnish with a pinch of Garam Masala,Kasuri Methi (shallow fry and crushed in palms) and chopped coriander leaves. Serve with Naan or Rice aside.
1)For Gravy consistancy ,You can add 2 table spoons og Corn Starch to 1/4 th cup of Water,make butter milk consistancy corn starch solution and add to Tamoto pure gravy)
2)Those who like onion and garlic ,Add Chopped Onion at Step 2 and blend along with tamotoes
Add Garlic paste at Step 3

3)To avoid cuddling of milk, pre boil the milk and add at last stage before removing from flame ,when the milk is hot