Dahi vada/dahi bhalle/perugu vada/Avada or doi bora or mosaru vada is very popular snack dish accross Indian subcontinent,Black gram lentil fritters soaked in flavoured yogurt tatse so yummy and delicious
Main Ingradients
for the vada/lentil fritters - makes about 35-38 small vadas
1 cup urad dal (about 250 grams)
1 green chili, chopped (hari mirch)
½ inch ginger, chopped (adrak)
1 tsp cumin seeds (jeera)
a pinch of asafoetida (hing)
3 tbsp water for grinding the batter or as required
salt as required (or ⅔ tsp rock salt)
½ tbsp raisins (Optional)
8-9 cashews, chopped (Optional)
Other ingredients:
2 to 2.25 cups curd/yogurt about ( 650 ml )
½ to 1 tsp chaat masala or as required
¼ to ½ tsp red chili powder or as required
1 tsp roasted cumin powder
black salt or regular salt as required
2-3 Tsps of allpurpose flour (Maida) (optional,if you mix with batter, you will get better result- this is chefs secreat :-) :-) )
METHOD
Rinse the lentils for 3-4 times in water.soak the lentils in enough water overnight or for 4-5 hours.
drain and add the lentils in a wet grinder.also add chopped green chilies, chopped ginger, cumin seeds & asafoetida.add water in intervals and grind to a smooth batter.
(we normally use about 3 tbsp of water added in intervals while grinding the lentils.take the ground batter in a bowl.stir the batter briskly for a couple of minutes.this makes the batter more light and fluffy.stir and keep aside.)
heat a kadai or pan with oil for deep frying.
when the oil becomes medium hot, add spoonfuls of the batter in the oil.
when you see the vadas becoming pale golden from the base and sides, please turn them.fry the vadas till they become golden and crisp.
drain on paper towels or absobing cloth or simply in a plate
in another bowl take water.and add the vadas to the water.soak them for 18-20 minutes.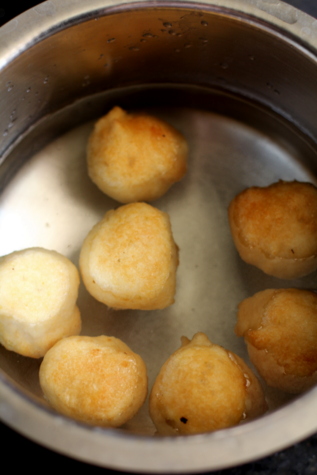 take each vada and flatten and press between your palms to remove excess water.
place these vadas in the serving bowl.
whisk yogurt till smooth.pour the yogurt over the vadas.
sprinkle the red chili powder, roasted cumin powder,chaat masala and black salt.garnish dahi vada with chopped coriander leaves.

top with the green chutney and tamarind chutney or Besan boondi and Fresh Anar seeds as required.
(For Tamarind chutney and Greenchutney ,
please click on
http://tinyurl.com/n5j793c
Serve dahi vada immediately or refrigerate and serve later.
NOTES
1: to make a no onion no garlic version dahi vada, just skip the garlic & onion in the green coriander chutney.
2: the leftover green chutney and tamarind chutney can be refrigerated and served with other indian snacks.
3: You may add the raisins and chopped cashews along with salt if you like (optional) .
4.South Indians can shape the dahi bada in normal vada /gare shape and can avoid black salt ,raisins
cashew nuts and chutneys ,Instead they may add tadka/seasaoning /popu/taalimpu consists of mustard seeds,urad dal,gram dal,curry leaves, hing (asofotida) and dry chillies for curd/yogurt
SOUTH INDIAN STYLE
Dump the Vadas into whisked curd/yogurt and add mustrd powder and tadka
some may add little turmeric powder also,it is up to you