Malai Kofta
This Savoury/Side dish is from mughlai cusine of India,
Cottage cheese balls diped in rich tamato and creamy sauce
..wah .la javab taste.. Yummy ..Kids luv this dish
Ingradients
For making Kofta
(Mashed potato and Mashed Gram Dal/Chana dal)
Grated Panner and Corn flour/All purpose flour(Maida)
1 cup grated Pannir /Indian cottage chese/Tofu
1 cup boiled and mashed potato (2 medium potatos)
Split Bengal Gram /Chana Dal (Boiled and mashed)
1/4 th cup
4 table spoons Corn Flour/all purpose Flour
1/2 tea spoon Coriander powder
1/4 th Tea spoon Cumin Powder
1 tea spoon Red chilli powder
1/4 tea spoon garam masala
edible oil 2 table spoons + for deep frying
2 green chillies (chopped) - Optional
Ingradients for Gravy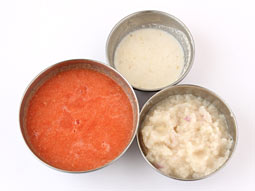 1/2 cup Onion Paste
2 teaspoons Garlic paste
1 Tea spoon Ginger Paste (alter natively you can use 2 tea spoons of Ginger and Garlic paste)
2 table spoons Cahew nut paste (soaked for 3 hours ,then blended into paste)
1/2 cup Tamotoes Paste/puree (or made up of two medium sized tamaotoes)
1/4 cup condensed Milk /Cream
1/4 tea spoon Turmeric Powder
1 tea spoon Coriander Powder
1/4 tea spoon cumin powder
1 tea spoon Red chilli powder
2 table spoons chopped coriander leaves
1/ tea spoon kasuri methi (optional)
1/4 tea spoons Zeera (Cumin seeds)
1 Bay laef
Method for Making Kofthas
1)Soak Chana Dal for about 3 hours
2) Add 1 nd 1/2 cups water in deep pan Add Soaked chana dal bring it to boil,Cook untill the Dal is
tender and all the water is absobed by the Dal and boil the water,switch off the flame ,let it
cool,then grind it to smooth paste /Mixture
3)Take a wide pan Add grated panner/Indian cottage Cheease.Mashed potatoes,Ground Dal Salt,Red Chilli
Powder,Coriander powder,Cumin Powder,Garam Masala,chopped green chillies,Corn Four and Mix well,chopped coriander leaves
Mix well
4)Shape the mix into lemon sized balls (Koftha balls) Roll them in corn flour
5)Heat sufficient oil for deep frying in a Kadai/wok and deep fry the Koftha balls until golden brown
,Drain on absorbent cloth/Paper
For Gravy
1)Take two table spoons of edible oil and add bay leaf and Cumin Seeds(zeera) let it splutter
2)Add Onion paste and saute (Fry) until golden brown
3)Add Ginger paste and Garlic paste ,cook for 3-4 minutes until the mixture looses Raw flavour
4)Add turmeric Powder saute for a minute
5)Add Chilli powder,Coriander powder,Salt,Cumin powder saute for a minute
6)Add Cashew paste and cook for 3 to 4 minutes
7)Add Tamoato Puree and continue to cook till oil surfaces on top ,Keep stirring
(else the gravy stuck to bottom)
8)Add Cream/Condensed Milk to tomoto gravy
9)Add two cups of water and cook for another 10 minutes or bring it to boil and some more cream
check salt ,add if needed more
10)Now add garam masala,kasuri methi,chopped coriander leves cook for a minute
11)Pour the gravy on the koftha balls and serve Hot
Note :
1)You may add boiled mashed Veggies(vegetables) such as Beans,Carrot etc
(Boil them ,place them in mulin cloth and tie the muslin cloth to sqeeze the excess water) and can add these mashed vegetables in kofta ball making along with panner.
2)Non - Vegetarians can use minced meat instead of Panner.
****************************************************************
I think you have enjoyed learning another dish from Your Recipe Kitchen
Please offer your suggestions and feed back to us through Chat now (blue chat box at extreme down right side) which enables me to improve my blog.
Please Share and suggest my blog to your friends so that others too benefit from my blog.
Regards
Chef Mohan