Raw Mango rice is best Lunch box and Main course dish,typically a recipe from Southern India,But relished by one and all
Main Ingradients
Cooked Rice - 2 cups
( Please see basic Rice cooking
http://pakashalaindiankitchen.blogspot.in/2015/04/rice-cooking-without-pressure-cooker.html)
Oil – 1 ½ tablespoons
Mustard seeds – ½ teaspoon
Chana dal (Bengal gram) - ½ teaspoon
Split Urad dal – 1 teaspoon
Peanuts – 1 tablespoon
Curry leaves – 5-6
Dry red chili – 1, broken in 2 pieces
Ginger paste – ½ teaspoon
Green chilies – 2, chopped finely
Turmeric powder – ¼ teaspoon
Asafetida (Hing) – a pinch
Raw mangoes – 1 medium or 1 cup, grated
Coconut – 2 tablespoons **Notes
salt - to taste
Method
Wash and peel the raw mango. Grate it using the grater and measure 1 cup. Also prepare all other ingredients and keep them handy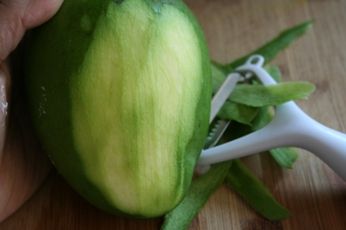 Heat the oil in a pan on medium heat. Once hot add mustard seeds. Let them pop.
Add chana dal and peanuts. Lower the heat to medium-low.
Roast them with stirring continuously till it becomes brown.
Add urad dal and roast
it till light brown. .
Add dry red chili and curry leaves. Fry it for 15 - 20 seconds
Add ginger paste and green chili. Cook them for 30 seconds.
Add turmeric powder and hing.
Immediately Add grated mango and salt.
Mix it and Cook it for 2 minutes or till the mango get cooked and tender.
Add coconut and mix it.
Cook it for a minute so coconut gets roasted.
Then add cooked rice.
Mix it very gently so rice grains don't break. Mix it till everything get incorporated well and rice get yellow color.
Cook it for 2-3 minutes or till rice get heated through.
Serve hot.best combo will be Papadam (papad) and Curd
Note :
Roast the Pea nuts till they turn brown , This is very important step. If you roast them in very hot oil then dal stay raw and hard like rock.
Taste – mild spicy and tangy from raw mango, and little crunchy here and there from peanuts and dal
Shelf life – once it cools completely, you can keep refrigerated up to 3-4 days.
Serving suggestions – serve as a light meal or pair it with your meal (roti-subzi-curry and rice).
________________________________________________________________
Hi
I think you have enjoyed learning another dish from "Your Recipe Kitchen"
Please offer your suggestions and feed back to us through Chat now (blue chat box at extreme down right side) which enables me to improve my blog
Please Share and suggest my blog to your friends so that others too benefit from my blog
Regards
Chef Mohan