Rice Murukulu/Chakali/Janthikalu
is Traditional Indian snack item,usually a must make snack during Makara Sankranthi festival.Crispy and tasty snack loved by all, go well with Hot Chai during Tea Time.
Ingradients
2 cups Raw rice
1/4 cup black gram split (urad dal)
1 tsp cumin seeds
1/4 tsp asafoetida
salt as per your taste
1/4 cup white butter
1/4 tsp Ajwain (Vamu)
Edible oil for frying
Method :
Dry roast the rice in a warm frying pan without letting the color change. Wash and soak for about half an hour, drain and spread on a cotton cloth to absorb the excess moisture. Grind to a fine powder.
Broil the urad dal to light brown colour, cool and grind into a smooth powder.
Sieve both the flours together through a fine sieve.
Dissolve asafoetida and salt in one fourth cup water and add the cumin seeds, make a firm dough with the sieved flour. Rub in the butter and knead with light hands to fully incorporate the butter.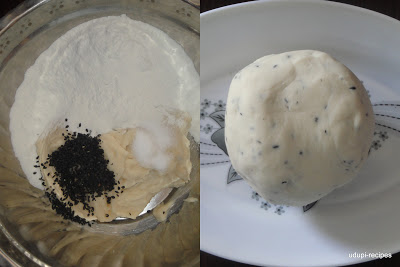 To make the murukkus, grease your fingers and take a little dough. Roll them between your palm to a tubular form.
Place the tubular dough into Murukku Presser(available in any Indian Store)
or this type tool to press the dough
Alternatiively,If you dont have murukku presser in hand
Form this roll into circles, while twisting them along. Make two circles next to each other. Press the ends into the circle to secure. Make two batches at a time,place them on polethene cover or greased and reveresed rice thali plate and cover with a wet cloth to prevent them from drying.
Heat oil and fry them in batches. Take them on a plate and gently slide them into the oil and fry on both sides till it becomes light golden brown and crisp.
Drain and let it cool before serving them
. Store in a dry air-tight container.
Note :
Keep the flame to medium,over heating of oil will tarnish the outer colour from golden brown to blackish brown.
You can replace the urad dal by Dalia flour/Moong Dal/Besan alternatively.