Rohu Fish Gravy Curry /Stew/Rohi Machli Salan (Andhra Style)

Ingredients: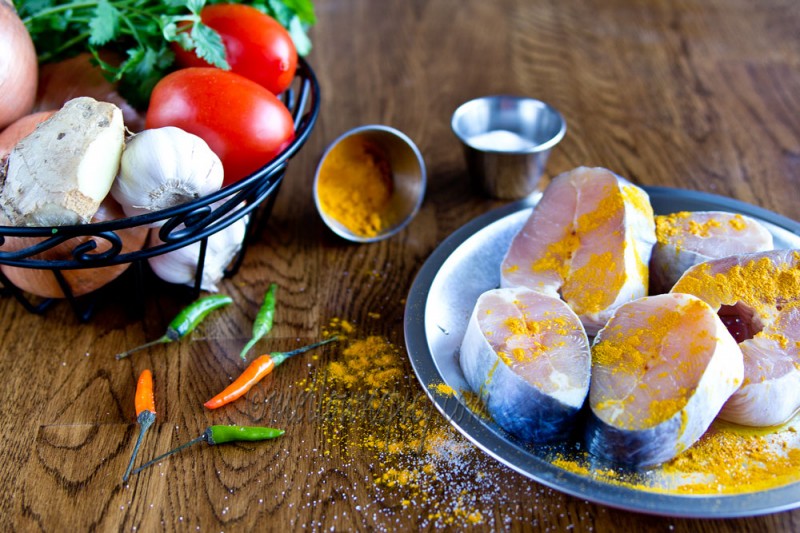 1/2 tsp cumin seeds
1 tsp coriander seeds
2 small bayleaf
2 cardamom
3-4 cloves
1 inch cinnamon stick
1 large & a small onion chopped
8-9 cloves of garlic chopped
4-5 cashews
1 green chilli chopped
1 tsp ginger paste
1 large tomato chopped
1/2 tsp red chilli powder
1 tsp kashmiri red chilli powder or Andhra Guntur Chilli powder
1 tsp turmeric powder
Salt to taste
Mustard oil for frying
2 cups of warm water
2-3 tea spoons Tamarind Juice
Coriander leaves for garnishing
Method:

1)Fry the rohu fish with little salt & turmeric.

2)Heat oil.Add cumin seed,coriander seed,bay leaf,cardamom,cloves,cinnamon.Saute it.Then add the chopped onion, chopped garlic & green chilli.Once the onion changes colour,add the cashews & .Saute for some time.Cool down & make a paste.

3)Again heat oil.Add the prepared paste.Saute for some time.Now add the
chopped tomatoes.Add little salt & fry for some time.Then add the ginger
paste.Again fry for some time.Add the turmeric powder,red chilli powder &
kashmiri or chilli powder.Fry the masala for some time.
4)Now add the warm water.Boil the gravy for some time.Now add the fried fish pieces.Cover & cook for 5 minute.
5)Garnish with coriander leaves.
Note : Those who likes sweetness,they may add raisins and 2 tea spoons of Sugar