CURD RICE - DADDOJANAM,PERUGUANNAM (TELUGU) THAYIR SADAM (TAMIL) MOSARU -ANNA (KANNADA)THAYIR (MALAYALAM) ,YOGHURT RICE WITH TADKA
Curd rice is close to every south indian's heart, who would not hesitate to admit that it Serves as last dish in south indian a hearty meal, which has a soothing effect, balancing the effect of other spicy dishes!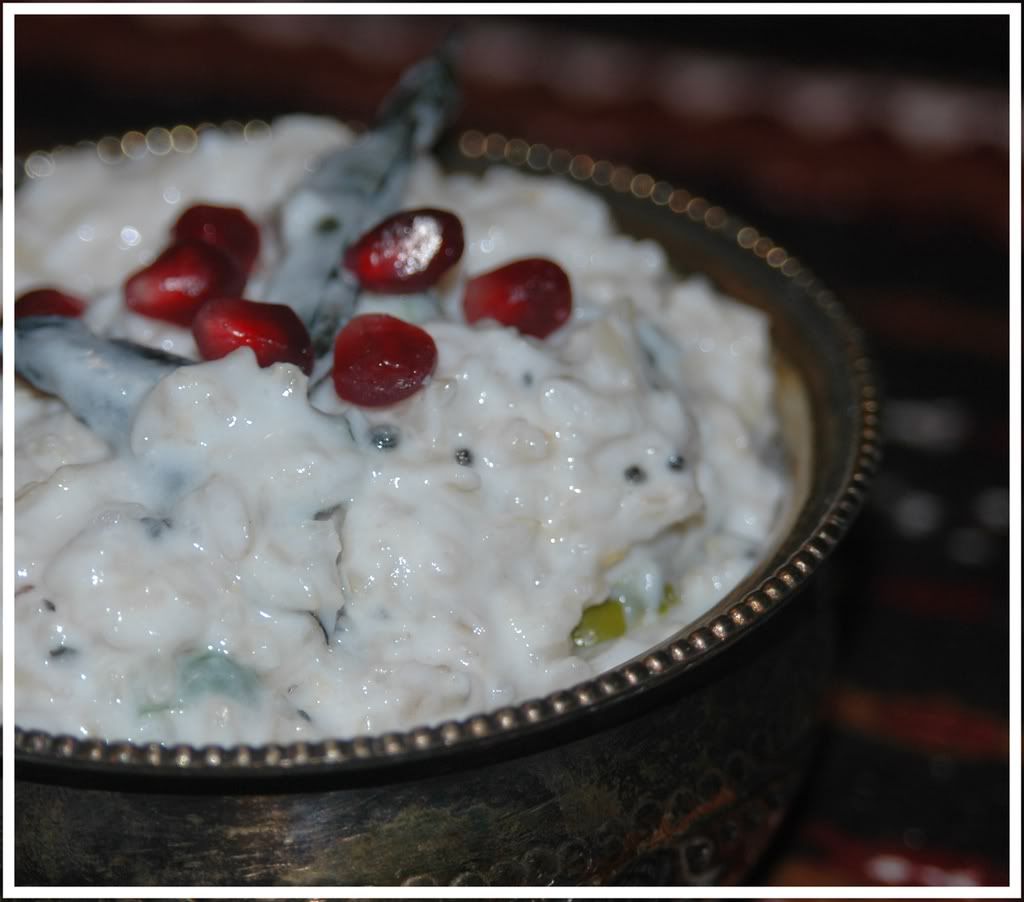 Main Ingredients
1 1/2 cups cooked rice
2 -3 cups fresh curds (dahi) (sweet curd)
1 table spoon oil
1 t spoon mustard seeds ( rai / sarson)
2 -3 Kashmiri/Guntur Dry Red Chilli (Whole )
1 table spoon urad dal (De skinned -split black lentils)
1 table spoon Chana Dal
1 tspoon black pepper cons
4 to 6 curry leaves (kadi patta) fresh
1 green chillie (chopped)
a pinch of asafoetida (hing)
salt to taste
For The Garnish
1 table spoon chopped coriander (dhania)
1 table spoon pomogrante seeds (anar Dana)
1 table spoon grated carrot (optional)
Method
Combine the rice and curds and salt together in a bowl and keep aside.
Heat the oil in a broad non-stick pan and add the mustard seeds.
When the seeds crackle, add the urad dal,Chanadal,black ppper cons, curry leaves and green chillies and sauté on a medium flame for 1 minute, while stirring continuously.Add the asafoetida,
now add this seasoning to prepared curd-rice mixture, mix well and ( cook on a slow flame for 1 to 2 minutes, this is optional )
while stirring continuously.add little water to make the dish in semi liquid form
Add grated carrot..(optional)
Add the salt, mix well and cook on a slow flame for 1 minute.
Serve hot garnished with coriander.
Store in regfrigerator for few minutes as this will really really enhance the taste .
You may garmish with pomogranate seeds and serve ..
Best served with lemon pickle or with karaa bhoondi.
Best food for travelling
_______________________________________________________________________________
Hii Friends
I Hope you have learned another chicken delight in your favourite kitchen today and now
I request you to try and make your family,friends happy with this tasty dish. I also request to share the recipe in face book or google plus with near and dear ones so that they too learn this simple and easy recipe.
as I strongly believe in the concept of "world is one family - Vasideva kutumbakam (in sanskrit language) we all belongs to one family.
Cheers..
Have a great Day !!!
Best Regards
Yours
Chef Mohan