Baby Potatoes Dry Recipe
This easy and simple dish makes every one happy inclding those whoo cook :-) such a simple dish with all home available ingradients.goes well with steamed white rice,chapathi,phulka or just as munching snack.


























Main Ingredients
500gm boiled n peeled baby potatoes
1 cup curd
1 tablespoon ginger and garlic paste
1 large onion paste
1/2 teaspoon cumin seeds
Salt to taste
1 teaspoon red chilly powder
1 tablespoon coriander powder
1/4 teaspoon cumin powder
1/2 teaspoon garam masala powder
1 table spoon chat masala
1/2 t spoon FDI permitted Food colour (optional)
4 tablespoon cooking oil
2-3 t spoons(small spoons) Lime Juice
Fresh coriander leaves for garnish
1 t spoons mustard seeds (rai)
Preparatoty
Boil the Baby potatoes (approximately 2 whistles in pressure cooker) and peel the skin and set aside
































Method
Step- 1 Marinate baby potatoes with ginger and garlic paste, curd, salt, red chilly powder, coriander powder, garam masala powder, keep aside for half an hour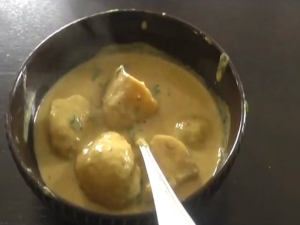 Deep fry the marinated baby potatoes (use spoon to add the baby potatoes to hot oil ,or else the oil becomes dark or clumsy)
Drain the fried potatoes and keep aside
Step-2 heat oil in wok, splutter zeera in heated oil,
Add spices to the oil and curry leaves (keep the flame low ,or else curry will be discolured/darkened)
Add ginger garlic paste
Add onion paste n keep stirring till oil get float over onion paste (onion paste should be coarse ) here you may add federal government permitted food colour (Deep Red) purely optional
Add little butter (optional you may add thick curd/yoghurt instead
Step-3 add marinated and fried baby potatoes and cook on medium flame for 5- 10 mins,Put off the flame when the curry becomes dry
Fry till the curry becomes dry
Add lime juice on top of the curry .
Sprinkle chat masala before serving ,
Garnish with coriander leaves and serve hot with steamed white rice or as party time snack..
Note
If you like add food clour while frying the baby potatoes
Please add lime juice after switching off the flame,other wise lime juice makes the dish slightly bitter.
Goes well with steamed rice with ghee or with Flat Indian bread (Chapathi/Roti)
Tip of the Day
Apply coconut oil to your hands while chopping green chilly to avoid burnind sensation
________________________________________________________________
Hi Friends
Hope you enjoyed learning another simple and Easy dish in very easy way in your kitchen,
Now i request you all to share this recipe with as many your near and dear so that others too can also learn and .
This whole world is one family (vasudeva kutmbhakam in Sanskrit language ) let us share knowledge with whole world.
God bless you all
Best Regards
Yours
Chef Mohan