Moongphalli Chikki/Peanut Brittle are Pan Indian sub continent Popular snack.But More famous one is Lonavla ( A Place in Maha Rashtra State in Western India) Chikki.Simple prepartion using only three Ingradients,Roasted halved Pea nuts,Jaggery and Clarified Indian butter(Ghee)

Ingradients
Groundnuts (Moongfali)/Peanuts - 1 cup De Skinned, roasted
Jaggery (Gud) - 3/4 cup
Clarified butter (Ghee) - 2 tablespoon
Method
Take a pan and heat it on the medium flame.
Heat ghee in a heavy bottomed pan over low flame. Add jaggery and stir continuously on low to medium flame.
Add Little water and keep stiring continously
Boil till the syrup becomes thick.(approximately 4-5 minutes on low to medium Flame
Check consistency of dissolved jaggery by dropping a small drop of it in a bowl filled with water. If jaggery drop turns into a solid drop and sits at the bottom of bowl, then it is cooked otherwise cook it for some more time and repeat the check.
Now add groundnuts and mix it well.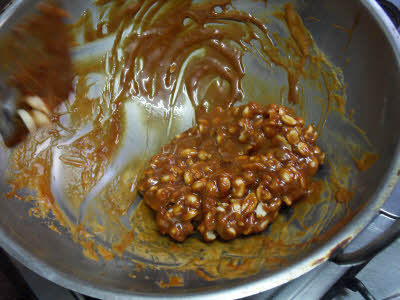 Take a flat plate and grease it.
Spread the mixture on it and let it cool.
Cut it into square pieces and store.

Note : you can use any Nut as alternative to Raosted Pea nuts or you can replace jaggery with Sugar.