Hyderabadi Kachi gosht Dum biryani
The
Kachchi
biryani is prepared with
meat
marinated with spices overnight and then soaked in
yogurt
before cooking. The gosht (meat) is sandwiched between layers of fragrant long-grained basmati rice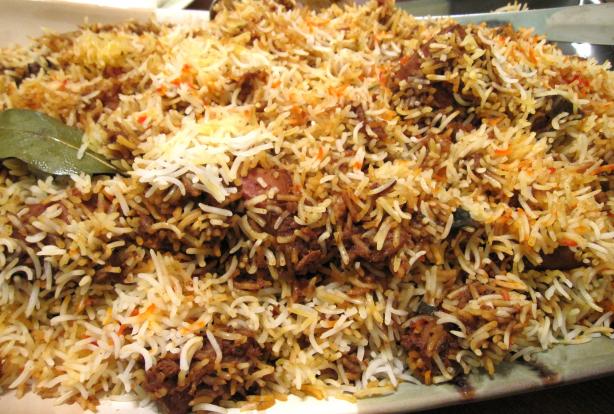 Total Marinating time: 3 1/2 hrs

Total 'Dum/slow cooking' time: Around 1 hr and 10 mins
Any Edible oil – 6 tbsp
Ghee – 2 tbsp
Lean spring Lamb meat, with bone, preferably leg, cut into 5 cm cubes – 800 grams, excess fat trimmed, washed, drained and pat dried

Raw Unripe Green Papaya skin – grated or made into a paste (optional-you can use meat tenderizer available in market)
garlic-ginger paste – 3 tbsp
Salt – 1 tsp
Turmeric powder – 1/4 tsp
for the marinade:
Thick Yogurt – 1/2 cup
Yellow onions – 3, medium sized, finely sliced
Fresh Mint leaves – 1 cup, loosely packed, roughly chopped
Fresh Cilantro – 1 cup, loosely packed, roughly chopped
Small green chillies – 4-6, slit lengthwise
Red chilli powder – 2 tsp
Salt – 1 tsp
Garam masala powder -1 tsp
Cardamom powder – 1/8 tsp
Coriander powder – 1 tsp
Lemon juice – 2 tbsp

Long Grained Fragrant Basmati Rice – 800 grams (old biryani rice)
Shah Zeera – 1/2 tbsp
Cardamom – 4
Cloves – 4
Cinnamon stick – one 2″ stick


Dagad Phool

– 1 tbsp
Dried bay leaf – 2
Salt – 3-4 tsp
for the Biryani:(assembing layers)

Saffron threads – 2 big pinch
Warmed milk – 1/2 cup
Cilantro/coriander leaves – 1/2 cup, loosely packed and roughly chopped
Mint leaves – 1/2 cup, loosely packed and roughly chopped
Lemon juice – 2 tbsp

Dough made with maida/all-purpose flour (flour+water) to seal the vessel(optional)
1. In a large

thick walled

oven-proof vessel/saucepan (if you have a thick walled Degchi(big sauce pan), please use it) (also please choose a vessel that is large enough so that there is about 1/4 amount of free headspace left after the whole biryani is assembled for the steam to collect and aid in cooking), add the tenderizing mix and the marinade and mix well. Wear gloves, add the meat and thoroughly mix the meat well. Using a knife, gash/poke the meat in the marinade. Mix once and again gash/poke it with a knife and then mix. Cover and keep aside.

2. In a thick bottomed frying pan, pour in oil and ghee. Once the oil is hot add the sliced onions. Deep fry them until evenly golden brown in color, keep a close eye and make sure you do not burn them. Once done, remove the pan from heat. Using a slotted spoon, remove half of the fried onions into a platter and spread them out. In a while, they will crisp up as they cool. The crisped fried onions will be later used for garnish. Reserve the remaining fried onions and oil in the same pan and let cool. These will be added to the marinade.

3. In a small bowl, add the warmed milk and soak the saffron threads in it.

4. Add the cooled fried onions and about 4 tbsp of the oil from the pan to the marinating meat and thoroughly mix using a spoon. Cover and keep it back in the refrigerator for 3-4 hrs.
5. Wash the rice in 3 changes of water and soak it in surplus fresh cool water for 30 minutes.

6. In a large saucepan, pour in surplus cool water and add the

shahzera

, cardamom, cloves, dried bay leaf,

dagad phool

and salt (do not forget adding salt). Cover and bring it to a boil on high. Once the water is boiling, drain the soaking rice and add it to the boiling water and stir. Cook for just 2 minutes and drain the rice immediately.

7. Spread the drained half cooked rice over the marinating meat. Spread evenly
the chopped cilantro, mint, saffron soaking in milk, remaining crisped fried onions and lemon juice. Cover the vessel properly with aluminium foil or a tight lid (with vents closed with dough if any) so that no steam can escape. You can also apply dough to seal the lid which is the traditional method.
8. Cook the Biryani on high for 5 minutes. You will notice that a good amount of steam has built up, which is called as the
pehli bhaap
, meaning first steam.. Then take a flat dosa tawa and keep it below the vessel (so that the bottom does not burn and it slow cooks evenly) and lower the heat to simmer and let it slow cook for 30 minutes, until done. Remove from heat, and have a quick look to see if the rice has cooked and stick a fork through to test the meat (be careful as there will a lot of steam, do not burn yourselves). If it needs to cook a little longer, cover again tightly with the lid/foil again and cook for a further 10-15 minutes. when it is done and wait for 10 mins before mixing the rice with meat, and serve on a large serving platter.
For a special touch, garnish with more fried onions, cilantro and mint leaves, toasted/fried almonds or cashewnuts or pinenuts or raisins and quartered hard boiled eggs.