KHATTE BAINGAN
is tangy side dish/asortment for flat indian bread/chapathi and Steamed rice,very simple menthod and tastes yummy


Main Ingredients
1/2 kg long baingan
1 cup curds (optional)
1/2 cup soaked Tamarind (imli)
1/2 tsp dhania powder (coriander powder)
1/2 tsp Ginger powder
1/4 tsp Turmeric (Haldi)
pinch of Asafoetida (Hing)
1 tsp saunf powder- fennel seed powder
1/2 tsp Red chilli powder
salt to taste
METHOD
Wash and wipe the brinjals well, make 2 slits lengthwise,taking care not to chop off the stem portion.
Heat oil in pan and deep fry brinjals on medium
Drain and keep aside
Mix asafoetida and turmeric and coriander leaves (cilantro) in 1 tbsp of water.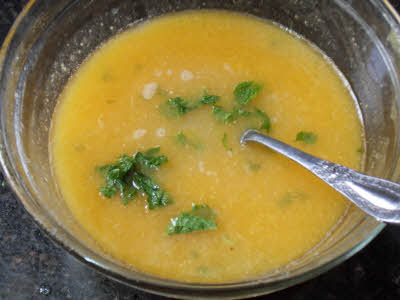 Heat 2 tbsp oil in a pan, add chilli powder and then add asafoetida water.
Now add tamrind pulp and 3/4 glass of water. (if you want more gravy then add 1 glass water)
When it starts boiling add turmeric, ginger powder,red chilli powder fennel powder and salt.
Add fried brinjals and cover and simmer for 5 minutes or till cooked well.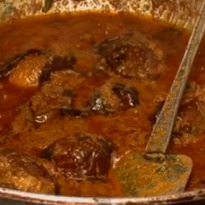 Garnish with fresh coriander.
Another simple method for those who dont find asofetida(Hing) in their countries
Ingredients
1/2 kg long baingan
1 cup curds
1/2 cup soaked Tamarind (imli)
1/2 tsp dhania powder (corainder powder)
1/2 tsp ginger powder
1/4 tsp turmeric
1 tsp saunf powder- fennel seed powder
1/2 tsp red chilli powder
salt to taste
Method
Wash and clean the egg plant (baingan) ,keep the stem intact
Cut the baingans in vertical deep fry them until brown
Heat oil in a pan and add dhaniya powder (coriander powder) , Turmeric ,saunf powder,ginger powder ,,red chilli powder and salt to taste, now add imli pulp, curds and allow it to cook for sometime
Add baingan, cook it for 5 minutes.
serve hot with rice.